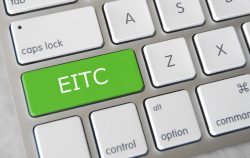 Members of Arkansas's Tax Reform and Relief Task Force heard this week that a state-level Earned Income Tax Credit is one of the ways to improve tax fairness and potentially simplify the tax code. This is a welcome discussion that could produce true reform that is long overdue in Arkansas.
The Task Force met again on October 3rd to hear options from their consultants, PFM Group of Philadelphia. The stated goals of the Task Force include improving fairness and simplifying tax law, and the consultants' presentation included EITC as one of the options lawmakers can consider. You can check out the full PowerPoint here.
The focus also turned to economic incentives, and how they are administered and regulated among different states. The consultants suggested that Arkansas has room to adopt a plan for regular evaluations on tax incentive programs. Generally, the goal of these incentives is to boost economic growth and promote jobs. The effectiveness of these programs is questionable in many cases.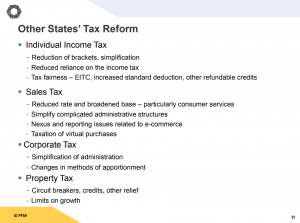 Interestingly, the consultants remarked that a quality, skilled workforce is the most important factor for growth. Creating this type of skilled workforce means starting when kids are young with quality early childhood education, and is sustained through investments in after school and summer programs, nutrition assistance like school breakfast, and measures that improve family economic security, like the EITC. While many of these programs are beyond the scope of this task force, the EITC certainly is not. Read more here about how the EITC is a workforce boosting program that is long overdue in Arkansas. And stay tuned. The focus of the next meeting, which is scheduled for November 7th and 8th, will be on sales and excise taxes.