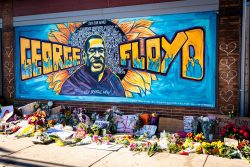 At Arkansas Advocates for Children and Families, we stand with our Black colleagues, family, friends and neighbors in their struggle for justice. We are outraged at the recent killings of George Floyd, Breonna Taylor and Ahmaud Arbery, along with the hundreds of Black fathers, mothers, sons and daughters killed by racism each year. We believe Black Lives Matter.
For far too long, we have failed to see all children as our own. Children and families of color, especially Black children and families, have been left out of the vision of a prosperous Arkansas. Racism is a public policy crisis in all areas — health, education, criminal and juvenile justice, taxes and the economy, workforce discrimination, and voting rights — and racism robs many Black Arkansans the opportunity to lead lives of dignity, health and safety.
Arkansans want what's best for our children. We want them to be happy and healthy and have everything they need to succeed in life. But we cannot continue to leave Black Arkansans behind, and we cannot stand by while Black Americans are killed in the streets and in their beds without justice.
AACF is dedicated to identifying racial and ethnic disparities in child well-being and sharing solutions grounded in the historical and current circumstances that created those disparities. We scrutinize the impact of structural racism on all legal and policy decisions regarding the approval and use of available public funds.
We call on Arkansas lawmakers, as they prepare for the 2021 legislative session, to examine how, when and where policies, programs and proposals negatively affect or disproportionately disadvantage children and families along racial and ethnic lines. Public policies that build racial equity must be prioritized. Anti-racist policies can no longer be seen as only belonging in the progressive realm. Together, all Arkansans must hold our state's leaders accountable in their efforts to build an anti-racist Arkansas.
No law can be passed that will bring George Floyd, Breonna Taylor or Ahmaud Arbery back to their loved ones. Or the thousands who came before them. But we have to do all we can to put an end to the insidious racism that resulted in their deaths and to prevent racially fueled killing in the future.
Photo credit: https://unsplash.com/photos/_vAC0je-hKo