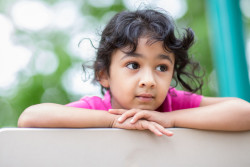 We're releasing a new report today on child poverty in Northwest Arkansas, in conjunction with the United Way of Northwest Arkansas's Children in Poverty Summit. Growth in the number of children in poverty has outpaced the population overall, and it's important that lawmakers and others understand the issue better.
5 things you should know about Child Poverty in Northwest Arkansas:
The younger you are in Northwest Arkansas, the more likely you are to live in poverty. The poverty level for people over 65 is 7 percent. For children under 5, it's 27 percent.
Poverty is defined by federal guidelines and determines if a family can make ends meet based on their earnings. The guideline is woefully out of date, however, and does not take into account the spending requirements for today's families. Because these guidelines are so antiquated, many more families struggle to meet their basic needs than are counted using poverty alone.
Half of the children in Northwest Arkansas are growing up in a struggling, "low-income" household. Their parents make less than double the poverty level (less than $39,580 for a family of three).
Children in poverty experience additional problems in educational and cognitive development and health outcomes. In order to overcome poverty, we need to focus on policies that help poor children succeed academically and improve their odds at getting an education. Good, proven examples of these include high-quality Pre-K and after-school programs.
Children of color are more likely to live in poverty, but the number of white children in poverty is much higher than African-American or Hispanic children. Poverty impacts the entire region.