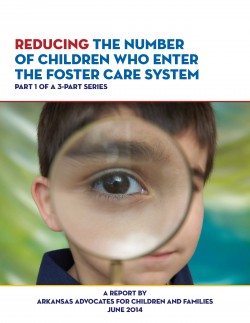 Too many children enter foster care for a very short period of time.  Removal from the home and placement in foster care can be a traumatic experience for a child, and the state is looking at ways to serve these children in their homes.  Nearly one third (30 percent) of children who enter Arkansas's foster care system stay for one month or less, according to a new report by Arkansas Advocates for Children and Families (AACF). That number is six times the national average.
The report, Reducing the Number of Children Who Enter the Foster Care System, is the first in a three part series. AACF is collecting data in an effort to analyze a new state effort to reduce the number of kids who enter foster care.
According to the report, the Arkansas Department of Human Services (DHS) is implementing several new initiatives to better determine a family's needs in order to provide more appropriate services to children. Hopefully, these initiatives will allow more children to remain safely in their homes while services are provided.
Jennifer Ferguson wrote the report, along with Eun Koh, MSW, PhD. Ferguson says more in-home services are needed.
"Since about half of the children who exit the system quickly returned home, they may have benefited from receiving additional services at home instead of being taken into foster care," Ferguson says. "Before DHS launched these new initiatives, it could be tough to provide services in the home because most of the federal funding is for services while the child is in the foster care system, and not at home. And we have very little state funding that pays for services in the home."
Ferguson says children who enter the foster care system in Arkansas are also younger than the national average, which is troubling.
"It's important to remember that when a child is removed from their home, even if it is a short period of time, it is very traumatic.  Many times they may be placed in another county and have to attend a new school," she says.
The report offered recommendations, including:
Many children who enter foster care may benefit from additional services that could ensure they don't enter foster care to begin with.
About half of children who enter the foster care system are younger than 6 years old. We need to determine why younger children are at greater risk of being removed from their homes. We should also offer more support to parents of young children, like home visiting programs passed by the legislature in 2013.
Reasons children enter the system, and the proportion of children who leave within a short period of time, vary widely across the state. The reasons for these variations should be more closely examined, especially as they relate to the different practices in different parts of the state.