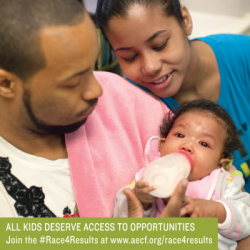 A new report from the Annie E. Casey Foundation shows Arkansas has a lot of ground to cover to ensure that all kids – especially children of color – are positioned to thrive. Race for Results: Building a Path to Opportunity for All Children, shows how children are progressing on key issues across racial and ethnic groups at the national level and in Arkansas.
The report measured indicators in four areas: early childhood; education and early work; family supports; and neighborhood context. Indicators ranged from percentage of children enrolled in preschool to the number of fourth graders reading at grade level to the percentage of young adults who have an associate's degree or higher, just to name a few. Arkansas has made strides in some of these areas, especially pre-K, even though this crucial program hasn't seen a funding increase in six years.
Arkansas Advocates for Children and Families Executive Director Rich Huddleston says the state is also benefiting from the hard work of interested advocates, funders, and volunteers who are behind efforts like the Arkansas Campaign for Grade-Level Reading and the Opportunity to Learn Campaign. However, he says opportunities for children of color are still not what they should be.
According to the Arkansas numbers in the report:
African-American (14.7 percent) and Latino (23.9 percent) fourth graders had the lowest level of proficiency in reading at the fourth grade level. Nearly four in 10 (38 percent) white fourth graders in Arkansas scored proficient or above.
Eighth grade math scores (proficient or higher)

African American – 9 percent
Latino – 19.7 percent
White – 34.2 percent

Average freshman graduation rate (the rate at which freshmen are likely to graduate in four years). Students who have fallen behind in early grades will find it harder to graduate on time.

African American – 67.6 percent
Latino – 77 percent
White – 75.8 percent

Percent of young adults 25 to 29 who have completed an associate's degree or higher

African-American – 18.8 percent
Latino – 9.2 percent
White – 33.6 percent
Huddleston says this is a problem that Arkansas needs to address sooner rather than later.
"This report is a call to action that requires serious and sustained attention from the private, nonprofit, philanthropic, and government sectors to create equitable opportunities for children of color, who will play an increasingly large role in our nation's well-being and prosperity."
Huddleston offered four policy recommendations to help ensure that all children and their families achieve their full potential:
Gather and analyze racial and ethnic data to inform polices and decision making;
Connect high-quality data to policymaking and investments to yield the greatest impact for children of color;
Develop and implement promising, proven practices focused on improving outcomes for children and youth of color; and
Integrate strategies that explicitly connect vulnerable groups to new jobs and opportunities in economic and workforce development.