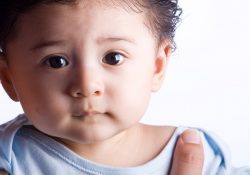 It's time to chime in with your comments on a federal policy change that would negatively affect many of Arkansas's children.
The Trump administration wants to change the federal policy under which immigrants are deemed a "public charge." The unintended result – or is it actually intended? – could be that tens of thousands of children in Arkansas go without health coverage, nutritious food and safe housing. It would punish people whose jobs have low pay, turning upside down the long-held American belief that through hard work we can prosper, and our children will have better lives as a result.
This morning (Oct. 10), the Department of Homeland Security posted in the Federal Register a draft version of a change to the decades-old public charge rule. We encourage you, your family and friends to make a public comment opposing this new rule. You can easily submit your own comments here.
To be clear, this isn't aimed at undocumented immigrants. This targets families who live here lawfully, including their U.S. citizen children.
The public charge rule has long been used to identify people who may depend on government benefits as their main source of support – whether an immigrant is likely to become dependent on cash assistance at government expense – when making decisions about whether they can lawfully enter or stay in the U.S. Under the current policy, the benefits considered in determining this public charge test are Supplemental Security Income (SSI), Temporary Assistance for Needy Families (TANF), and government funded long-term care.
If the administration's proposed change is finalized, immigration officials would consider whether individuals have received or even sought access to nutrition, health and housing programs. Benefits considered a "public charge" would include SNAP and housing assistance, among other programs. In addition, the administration would consider not just whether someone might be "primarily dependent" on public benefits but instead whether they're "likely to receive" benefits in the future (in part, based on their low incomes).
The Department of Homeland Security has asked for input on whether enrolling in the Children's Health Insurance Program (CHIP) could be considered a factor in determining whether someone might become a "public charge." In Arkansas, CHIP covers more than 100,000 children through ARKids First health insurance, including lawfully residing immigrant children.
Immigrant parents who seek those benefits for their children could be prevented from renewing their visas or becoming permanent residents.
In Arkansas, more than 80,000 children have at least one immigrant parent. The great majority of those children are citizens. During Gov. Mike Huckabee's tenure, our state moved to ensure that all mothers-to-be, including immigrants, had prenatal care through Medicaid if they were income-eligible. It was then and is still considered "pro-life."
It's time to remind those who would advance this proposed change that we are all the beneficiaries when children and families have the resources and opportunities they need to meet their full potential. In just 10 or 15 years, many of these children will be adults – U.S. citizen adults. What do we want for them, and for us? When children have access to nutritious food, they grow up healthier. When they're healthy, they do better in school, which makes our communities better-educated, which makes them attractive to businesses. When families have the resources to meet their needs, they buy goods and services in our local communities. Which comes back around to all of us.
Think about a school district like Springdale, where at least 44 percent of students have immigrant parents (44 percent of Springdale students speak a language other than English in their homes). It would be devastating to that community, and to others like it in Arkansas, if many of those children lost their health coverage, or if their families were too scared to continue using the SNAP benefits they spend at local businesses.
This is just the latest example of our nation's leaders blaming hard-working families for their low wages. In a state in which the unemployment rate remains below the national average, we actually need workers to move into Arkansas. We want people with high incomes to move here, but we don't want to close the door to hard-working families who are seeking a better life.
We hope you'll join us in sounding the alarm by sharing this information with colleagues, family and friends. You can easily make a public comment regarding this rule at this website. The deadline for comments is December 10th. If you have any questions or would like more information about the comment process, please email Laura Kellams or call at (479) 927-9800.