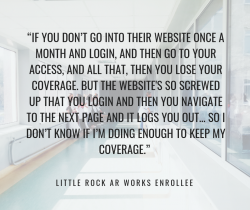 The following is a post from Arkansas Advocates for Children and Families Northwest Arkansas Director Laura Kellams.
We're seeing more and more evidence that Arkansas Works enrollees are confused or unaware about the new policy to cancel their health insurance if they don't report their work or community engagement hours to the state.
On Tuesday, the Kaiser Family Foundation reported on the results of focus groups and interviews in Arkansas. The result confirms what we've suspected: that enrollees don't fully understand the details and find it difficult to navigate the process.
"The new requirements do not appear to provide an additional incentive to work beyond economic pressures, but are adding anxiety and stress to enrollees' lives." – Kaiser Family Foundation brief: "Medicaid Work Requirements in Arkansas: Experience and Perspectives of Enrollees"
Arkansas lawmakers and those reviewing the policy at the state level should pay close attention to this issue brief that reports directly from interviews with those who are or were insured by the Medicaid-funded Arkansas Works. Since the state's first-in-the-nation policy went into effect in June, about 17,000 enrollees have lost their insurance. The work-reporting requirements will expand next month to those aged 19-29 (currently it applies to those aged 30-49).
While we applaud the state's move to allow those with Arkansas Works insurance to report their hours over the phone (instead of just online), it's still clear that the requirement itself does not "promote the objectives of Medicaid" in Arkansas. And that's what's required. Waivers that allow states flexibility to experiment with Medicaid programs are supposed to be advance the core purpose of the program: to provide health care to low-paid families. A lawsuit is pending in federal court on whether Arkansas's experiment meets that objective.