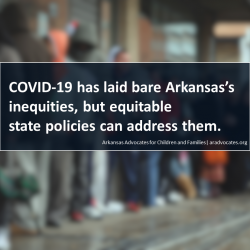 The COVID-19 pandemic and ensuing economic crisis have disproportionately harmed communities of color and underscored existing inequities. Black Arkansans are dying of COVID-19 at a rate three times higher than White Arkansans, and members of Arkansas's Marshallese community have case rates and death rates 4.5 times higher than the state average. These troubling inequities underscore the ways in which America's history of racism, bias, and discrimination have remained embedded in its health, social, and economic systems.
While more federal aid to states could help ease state budget shortfalls, Arkansas lawmakers can help reverse current trends and create a broader economic recovery by enacting policies that adhere to the three principles set out in a new report from the Center on Budget and Policy Priorities:
Target Arkansans with the greatest health and economic needs
Serve people experiencing homelessness
Expand cash assistance under Temporary Assistance for Needy Families (TANF)
Extend health care to people who are undocumented
Enhance food assistance for struggling families and individuals
Establish emergency child care services for essential workers
Protect funding for schools and support students most in need
Release youth from confinement and support re-entry into schools and communities
Require and fund COVID-19 data tracking to understand its disparate impacts
Dismantle Arkansas's longstanding racial, gender, and economic inequities
Use state-funded rental assistance to serve people in need
Make state unemployment insurance systems more inclusive
Adopt state-level emergency and permanent paid leave policies
Boost incomes through state Earned Income Tax Credits (EITCs)
Invest in high-poverty school districts
Eliminate criminal legal fees and base fines on ability to pay
Protect Arkansas for long-term economic growth and opportunity
Raise revenues, especially from profitable corporations and the wealthy
Roll back economic development incentives and other tax breaks for profitable corporations
Reform or repeal restrictions on local government revenue-raising
The need for these principled choices has always existed but is more important now than ever. White supremacy and structural racism created and now perpetuate disparities in power, resources and opportunities – creating disadvantages for communities of color and preserving the privilege of an elite, largely white class. The wealthiest 10 percent of White households hold nearly two-thirds of all the country's wealth, and other White households about another fifth, leaving only 13 percent for everyone else.
Disparities like these bring harm to Black and Brown people and limit their ability to provide for their families and hinder their contributions that strengthen the broader economy. In the era of COVID-19, these disparities have resulted in even more severe health and economic inequities. Nationwide, counties that are majority people of color have far more COVID-19 cases and hospitalizations than mostly White counties. Making matters more dire, Black people have endured higher death rates. The country's unprecedented unemployment levels have also affected lower-wage industries the most, where people of color, including immigrants, and women are overrepresented. Some 24 percent of Black and Latinx people work in affected service industry jobs, compared to 16 percent of White people. Undocumented immigrants are especially hard-hit because they do not qualify for unemployment, despite their significant contributions to state and federal unemployment systems. Arkansas's undocumented immigrants paid more than $77 million in total unemployment insurance taxes over the past 10 years.
The three principles and policies outlined above will help address the needs of those most impacted today and help respond to longstanding structural inequities.