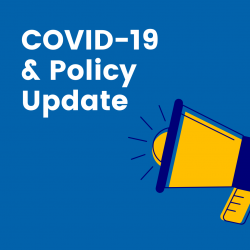 With Congress considering what to include in the next round of coronavirus relief legislation and a debate over how schools can reopen safely in Arkansas, there's a lot to update in both the state and federal policy arenas. Arkansas Advocates' updates will arrive in your inbox every other Friday.
Arkansas COVID-19 cases
The state recorded its second and third-highest one-day increases in cases this week — 1,013 on Thursday and 990 on Friday. Governor Hutchinson expressed concern this week over the rising number of COVID-19-related hospitalizations. The state ranked second among its neighbors in the number of hospitalizations per 100,000 people. As of today, 497 people were hospitalized in Arkansas with the virus, the highest number so far.
UAMS released this week its latest forecast of where the virus case numbers might be headed over the next seven months. The predictions are based on current data and assume that conditions will remain the same. If that were true, we'd have more than 100,000 active cases by Thanksgiving (compared to about 7,000 active cases this week), according to the model. Hopefully a new statewide mask mandate will reduce those numbers, UAMS officials said.
The mask mandate went into place on Monday by executive order of the Governor. It includes enforcement mechanisms, but some local law enforcement officials have said publicly that they won't enforce it.
Pediatricians say Arkansas is not ready to go back to school
The Arkansas Chapter of the American Academy of Pediatrics released a statement this week saying it does not currently support the statewide reopening of schools in August. The organization said the state has not yet met the national American Academy of Pediatrics guidelines for reopening schools due to a high rate of community spread in some counties and a lack of standardized safety policies and resources. The state pediatricians' group warns that those disparities could especially harm Arkansans who are Black, Lantinx, Marshallese, and other people of color and people who have low incomes. They outlined a series of recommendations for school reopenings including making decisions based on data at the county or school district level. The recommendations also include a stronger requirement for masks to be worn by students and teachers in K-12, with more consideration being given to requiring 3- and 4-year-olds to wear masks in pre-k. You can read the letter, including the full set of recommendations, here.
Governor Hutchinson said the concept of considering local virus transmission rates is "built into the framework" that state officials are using. But the state's guidelines refer to criteria for school closure after cases occur among students and staff, and are not intended to identify a district's status prior to opening, according to the Department of Education's website.
Next COVID-19 relief package
The U.S. Senate is currently drafting a new COVID-19 relief package, which could be the last for this year. With extra unemployment benefits and other pandemic-related protections set to expire next week, the White House and Senate Republicans haven't yet agreed on what should be included. Senate Majority Leader Mitch McConnell said the legislation that he is drafting will include funding on education and child care. But groups like the Center for Budget and Policy priorities have raised concerns around forcing schools to reopen for in-class instruction as a condition of funding. They say such conditions for funding pose risks to health and racial equity and will increase financial pressure on already cash-strapped state and local governments. CBPP and Arkansas Advocates are calling for a comprehensive relief package to address the hardships families are facing during the pandemic. In May, the House of Representatives passed the HEROES Act, but the bill was not considered by the Senate.
Unemployment insurance helped create demand — and jobs
A new analysis from Arkansas Advocates Senior Policy Analyst Bruno Showers looked at how boosted unemployment benefits (the extra $600 a week from the federal CARES Act) helped to mitigate the impact of historic job losses in Arkansas. The extra payments meant low-income households only had a slight drop in spending, which helped mitigate the impact to families and to the economy. If the extra benefits are allowed to expire, one estimate shows that Arkansas would lose nearly 30,000 jobs because of the drop in demand that income had created. Read Bruno's blog here.
A new paper from the Center on Budget and Policy Priorities shows the need for continued economic relief as the pandemic continues to unfold. About 196,000 children in Arkansas experienced difficulty getting enough food; 134,000 Arkansas households fell behind on rent; and our unemployment rate stood at 8 percent in June, more than twice as high as our pre-pandemic unemployment rate.
Food insecurity
More than 150,000 Arkansans are estimated to be newly food insecure since the COVID-19 pandemic began, and state policies are making it harder for families to get the nutritional support they need during this time of crisis. A new report released Thursday by Arkansas Advocates calls for the state to eliminate policies that make it more difficult to be hungry here than in most other states. You can read more and download the report here. Arkansas Advocates' Laura Kellams and Melvin Clayton led a virtual community forum on the issue yesterday. If you missed it, you can see a recording of it here. Melvin's blog post offers a reminder of how a 15 percent increase in SNAP benefits, under consideration at the federal level, would benefit Arkansans.
The Food Research & Action Center has a new report about food insecurity and poverty in the southern region of the U.S. Check out their report to learn more about the region and the need for expanded federal nutrition programs.
Children's health care coverage
Last week, Arkansas Advocates released its annual Finish Line report that looks at children's health care coverage in Arkansas. Between 2017 and 2018, Arkansas slightly improved the children's uninsured rate (4.5 percent in 2018, down from 4.7 percent in 2017). However, the state continues to lag behind its all-time low of 4 percent in 2016. Prior to 2017, Arkansas was on a trajectory toward 100 percent coverage of children in the state. The public health crisis caused by the COVID-19 pandemic, paired with the resulting economic downturn, may threaten our incremental progress. Read the report.
Signatures deemed invalid for several ballot measures
Secretary of State John Thurston rejected the petitions last week for three ballot measures, including the ones calling for an independent redistricting commission and ranked-choice voting. The Secretary of State's office said that when signatures were submitted for petitions to add measures to the November ballot, he was told that the paid canvassers who collected signatures had "acquired" background checks and that canvassers are required to "pass" background checks. Because of this, he determined the signatures for the petitions could not be counted. However, the campaigns for three ballot measures argue all of their paid canvassers did in fact pass background checks before they ever began collecting signatures. They have asked the Arkansas Supreme Court to force Thurston to count the signatures on the petitions.
Medicaid work reporting requirements
The Trump administration last week asked the U.S. Supreme Court to reinstate the work-reporting requirements in the Medicaid-funded Arkansas Works health insurance program. Two lower court rulings declared that the requirements violated Medicaid law, but the administration has now officially appealed. Arkansas's work reporting requirements were halted last year as a result of this case, but not before 18,000 Arkansans lost their health care coverage.
Counting immigrants in congressional redistricting
President Trump released a memorandum this week stating that undocumented immigrants shouldn't be counted when dividing up how congressional districts should be drawn after the U.S. Census is complete. Arkansas Advocates joined Arkansas United and Arkansas Counts in condemning this proposal as seeking to depress participation among immigrant families in the Census. As a reminder, there is no citizenship question on the Census, and the Constitution requires that it count all people living in the United States, whether they are immigrants or not.
Asked for a response, Governor Hutchinson said today that it's "a little bit confusing" to talk about how data will be used to draw congressional districts right now. "It's important not to confuse the message, and the message is we want everybody counted," he said.
Help us count children in the census
The final day to complete the census is October 31. Right now, only 57 percent of Arkansas households have completed the form. Arkansas Counts released new resources to help ensure that kids are counted in the census with their new back-to-school toolkit. The site includes (really cute) sample social media messages and graphics, flyers, and ideas for outreach. Help us make sure we #CountAllKids. Many important programs for children like education, health care, and hunger assistance rely in whole or in part on census data for funding. If we do not have an accurate count of children, programs will not receive the money they need to help children.
Census volunteer opportunity
Arkansas Counts is looking for volunteers to help call and text Arkansans to encourage them to participate in the Census. Join them next week to phone and text bank Arkansas residents to encourage everyone to GET COUNTED in the 2020 U.S. Census. They'll provide the training and tools to ensure a complete and accurate count for Arkansas.
Resources