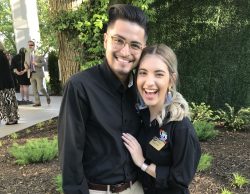 Today's U.S. Supreme Court ruling in the DACA case is cause for celebration. An estimated 4,500 Arkansas immigrants will continue working and making a life in the Natural State without fear of imminent deportation. But it's also a reminder that it's past time for Congress do its job and pass meaningful immigration reform.
DACA, Deferred Action for Childhood Arrivals, is an Obama administration policy that allows immigrants who arrived in the United States as children to apply for a type of temporary status that allows them to stay – and work lawfully – as long as they meet certain requirements. President Trump attempted to rescind the policy in 2017, but a series of court rulings, and now the Supreme Court, have prevented his administration from doing that.
Nationally, the DACA program protects about 700,000 young immigrants from deportation. About 4,500 of them are Arkansans. This is a huge win for those young immigrants, who have spent the years since DACA was implemented going to college, working, and simply contributing to our state in so many ways. The Arkansas Legislature passed laws last year to allow immigrants with DACA status to become nurses and to pay in-state tuition at state colleges and universities, just as other Arkansas high school graduates are able to do.
Today's ruling allows them to keep furthering those dreams. Immigrant advocates say the ruling also appears to open the door to new DACA applications, and Arkansas United has promised to share information on its Facebook page about the steps to new applicants can take. So we cheer alongside current and potential DACA recipients, and we celebrate the contributions immigrants have made and will make in Arkansas.
But that doesn't take away Congress's obligation – its responsibility – to adopt a longer-term solution. DREAMers and their families need a path to citizenship, and our nation's broken immigration system demands a long-needed overhaul. The Supreme Court ruling allowed members of Congress to dodge this issue ahead of the 2020 election, but it does not remove the urgent need for reform.
The Supreme Court didn't decide whether DACA is a sound policy – only ruling in the case based on procedural requirements. But it's clear that most Americans broadly support protecting DACA recipients from deportation. Polls show that almost 9 in 10 Americans support their legal protections. A Talk Business poll of Northwest Arkansas residents in 2018 showed that 53 percent of people in that part of the state agreed that "Congress should protect DACA enrollees." Just 34 percent said DACA enrollees should be deported.
This administration has placed children in cages at the border, separated babies from their parents and attempted to kick out law-abiding, contributing DACA recipients who know no other home but the United States. We're clear on where the administration stands. It's long past time for Congress to step up.