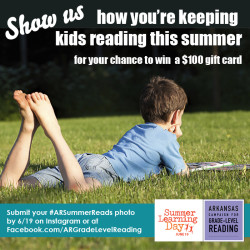 Hey Arkansas! Summer Learning Day is on June 19, and in celebration, the Arkansas Campaign for Grade-Level Reading is offering YOU a chance to win a $100 Walmart gift card!
How?
Show us how you keep your kids reading during the summer!
Take a photo: Whether you're out camping, visiting the library, at the pool or staying home, take a photo of your child reading!
Post the photo & use the hashtag: Between June 1 – June 19, 2015, upload your photo onto our Facebook page OR post the photo to Instagram and use the hashtag #ARSummerReads. Feel free to enter multiple times!
See who wins: On June 19, we will announce the winner in honor of Summer Learning Day!
Why is summer learning important?
Every summer, children risk losing up to three months in reading skills. Year after year, these losses add up. High-quality summer learning opportunities make a difference in curbing summer learning losses, but only 17 percent of Arkansas students currently have access to a high-quality program.
Summer learning opportunities are everywhere! When your kids read books, keep a journal, visit the library or attend summer learning programs, they make their summer count.
Research show that summer learning is an important factor in helping ensure that children achieve grade-level reading proficiency. To achieve our campaign's goal, we must make sure our kids keep learning during the summer!
Take action and do your part for the Arkansas Campaign for Grade-Level Reading so that all Arkansas children can read at grade level by the end of third grade.
Learn more!
This contest is sponsored by the Arkansas Campaign for Grade-Level Reading (AR-GLR). Facebook and Instagram are in no way responsible or associated with this contest.