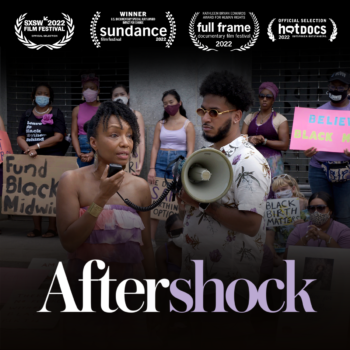 Join us for a screening of the newly released documentary, Aftershock, on the Black maternal health crisis, and how the death of Black mothers has painful reverberations through families and communities. The film also lifts up the work of advocates across the country who are pushing to change the health care system to better serve Black mothers and babies.
We will start with a short reception before the screening of the film. We will end with a discussion on the Black maternal health crisis in Arkansas and ways you can advocate for change.
This screening is hosted by:
Alpha Kappa Alpha Sorority, Incorporated ®, Beta Pi Omega Chapter
Arkansas Advocates for Children and Families
Arkansas Birthing Project
Arkansas Blue Cross and Blue Shield
Arkansas Minority Health Commission
Arkansas Peace & Justice Memorial Movement
Arkansas Medical, Dental and Pharmaceutical Association
Arkansas State Independent Living Council
Little Rock Branch of NAACP- Women in NAACP (WIN)
Little Rock Area Metro Branch of National Association of University Women (NAUW)
Philander Smith College Social Justice Institute
UAMS Department of Obstetrics & Gynecology
Ujima Maternity Network
The Urban League of the State of Arkansas

About the film:
In October 2019, 30-year-old Shamony Gibson tragically died after being ignored by medical providers 13 days following the birth of her son. Two months later, we began filming Shamony's surviving mother,Shawnee Benton Gibson, and bereaved partner, Omari Maynard, as they began to process what happened and figure out their new normal.
In April 2020, 26-year-old Amber Rose Isaac, died due to an emergency c-section that stemmed from medical negligence. Within weeks of Amber's death, Omari reaches out to Amber's surviving partner Bruce McIntyre and a lifelong bond is formed. Together, Omari and Bruce begin the fight for justice for their partners with their families and community by their side, while caring for their children as newly single parents.
Through the film, we witness these two families become ardent activists in the maternal health space, seeking justice through legislation, medical accountability, community, and the power of art. Their work introduces us to a myriad of people including a growing brotherhood of surviving Black fathers, along with the work of midwives and physicians on the ground fighting for institutional reform. Through their collective journeys, we find ourselves on the front lines of the growing birth justice movement that is demanding systemic change within our medical system and government.