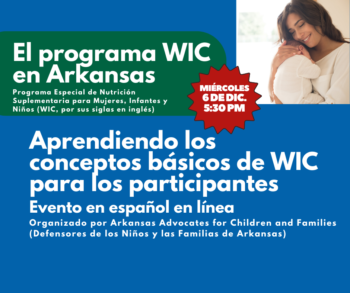 ¿Alguna vez se ha preguntado qué les ofrece el programa WIC a las familias? ¿Está embarazada o ha tenido un bebé en los últimos 12 meses? ¿Tiene hijos menores de 5 años? Aprenda lo básico sobre el programa WIC. Eduardo R. Ochoa Jr., M.D. hablará sobre los temas de salud que impactan el embarazo y sobre las etapas iniciales en la vida de un bebé. Maricella García, la directora de Defensa de la Igualdad Racial en la organización de Los Defensores de Arkansas para Niños y Familias (AACF, por sus siglas en inglés) nos compartirá sobre cómo solicitar el WIC, incluyendo el tipo de información que necesita para su solicitud. Y nos compartirá cómo los beneficios de WIC pueden ayudar a su familia a mantenerse más saludables y en la compra de alimentos.
Este webinario se realizará en español.
---
Have you ever wondered what the WIC program provides for families? Are you pregnant, or have you had a baby in the past year? Do you have children under age 5?
Learn the basics of WIC in this Zoom event with Dr. Eduardo Ochoa and AACF Racial Equity Director for Advocacy Maricella Garcia.
We will talk about how to apply, including what information you need for your application. And we will share how WIC benefits can help your family be healthier and assist you in your food purchases.
Dr. Ochoa will also discuss the health issues that impact pregnancy and the early life of a baby.
This session is hosted by Arkansas Advocates for Children and Families and will be provided in Spanish.