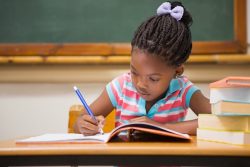 The Arkansas General Assembly wrapped up its fiscal and special sessions in March with little to no new funding for priority education needs for children in Arkansas, especially for low-income children and those with special needs. The following education bills were introduced but have not received appropriations, meaning they will not be funded:
$17 million in new funding for the Arkansas Better Chance (ABC) pre-K program, which has only received a $3 million increase in permanent state funding over the past decade.
$5 million for afterschool and summer programs under the Positive Youth Development Act (PYDA), bipartisan legislation which was passed in 2011 and yet to be funded.
$3 million in additional funding for catastrophic special education services. Arkansas's public schools will need an estimated $27 million to serve these vulnerable students this year—up from $21 million last year. However, they will only receive $13 million.
Unfortunately, the state did enact a new law that will give tax deductions for primarily upper-income families that use 529 college savings plans for tuition at private elementary and secondary schools. This law will cost the state an estimated $5.2 million in general revenue that could be used for the already-underfunded public schools the vast majority of Arkansas students attend. AACF opposes this policy in principle, because private schools are not required to meet state or federal standards for education, accountability, transparency, or civil rights. Tax deductions or voucher programs like these would allow public tax dollars to be spent on private schools that are allowed to discriminate against students based on their race, religion, disability, or many other factors. There are far more effective, research-based, bipartisan programs that Arkansas could spend its public tax dollars on, such as early childhood education, afterschool and summer programs, or developing and retaining new teachers in underserved areas.
Overall, the legislature's education budget falls far short of the 2.4 percent cost of living that its Bureau of Legislative Research projected for fiscal year 2019. Be sure to sign up to receive AACF's education e-newsletters to keep up with the status of education adequacy and equity in Arkansas for all kids.