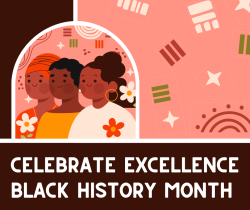 In the United States, we celebrate Black History Month in February. It is important that we recognize that Black History is American History and American History is Black History. As noted By President Biden in his Proclamation on National Black History Month, 2022:
National Black History Month serves as both a celebration and a powerful reminder that Black history is American history, Black culture is American culture, and Black stories are essential to the ongoing story of America — our faults, our struggles, our progress, and our aspirations. Shining a light on Black history today is as important to understanding ourselves and growing stronger as a Nation as it has ever been. That is why it is essential that we take time to celebrate the immeasurable contributions of Black Americans, honor the legacies and achievements of generations past, reckon with centuries of injustice, and confront those injustices that still fester today.
But most often, during Black History Month, instead of focusing on the importance of Black History to all of us, we put on display Black pain. We learn about slavery, Jim Crow, civil rights and the deaths of Black leaders. An understanding of these issues is vital to understanding American History. But these should be year-round discussions, not only held in February.
So, instead of focusing only on those same painful legacies, for this Black History Month, I would like us to focus on honoring the legacy of Black Americans and celebrating Black excellence. The Black pioneers I have highlighted on below are only a few of the amazing Black people who have shaped and changed American culture and history. And their legacy continues today in the thousands of amazing Black individuals who have continued in their footsteps.
The Choreographer Who Changed the Way We Think of Modern Dance
Alvin Ailey was a dancer, choreographer, and activist who founded his own dance theater and two dance schools. He danced on Broadway and studied modern dance, ballet and acting. He founded the first Black repertory dance company, the Alvin Ailey Dance Theater, in 1958 to "carry out his vision of a company dedicated to enriching the American modern dance heritage and preserving the uniqueness of the African-American cultural experience." In 1960, he premiered his critically acclaimed work, Revelations. He set the dance to Black spirituals, gospel, and blues music that he had grown up with. Revelations remains his best-known work and continues to be performed today.
Ailey established two schools, the Alvin Ailey American Dance Center (now known as the Ailey School) in 1969 and the Alvin Ailey Repository Ensemble (now known as Ailey II) in 1974. He strongly supported the arts in education especially for those in communities that were historically excluded from these types of enrichment programs. In 2014 Ailey posthumously received the nation's highest civilian honor, the Presidential Medal of Freedom, in recognition of his commitment to Civil Rights and his significant cultural contributions in the world of dance.
Recommended Media
Revelations: The Autobiography of Alvin Ailey
For children: Alvin Ailey
The Journalist Who Fought to Bring the Truth of the Black Experience to Light After the Civil War
Ida B. Wells-Barnett was an American investigative journalist, suffragist, early civil rights leader, and one of the original founders of the National Association for the Advancement of Colored People (NAACP). Wells was born into slavery in Mississippi and gained her freedom during the Civil War with the Emancipation Proclamation. After losing both her parents at the age of 16, Wells moved her remaining family to Memphis, Tennessee. There she attended Lemoyne-Owen College, a Historically Black College. She was a staunch supporter of women's rights, and in 1884 she refused to give up her seat in the first-class lady's car of a train and was dragged out of the railcar. She reported on her treatment by the train company in an article in The Living Way, and although she sued the train company over her mistreatment, she ultimately lost.
She wrote articles attacking Jim Crow policies, criticizing the poor conditions in Black schools, and she began investigating lynching in America. As a result of her investigative journalist work, the newspaper she co-owned, Free Speech, was attacked and destroyed by a White mob. After moving to New York, Wells continued her investigative work into lynchings and later published two books, Southern Horrors and the Red Record. Both these books had far-reaching impact into the debate surrounding lynching. In 2016, the Ida B. Wells Society for Investigative Reporting was launched and is housed at the University of North Carolina Hussman School of Journalism and Media to support reporters and editors of color as well as raise awareness as to how the "inclusion of diverse voices can raise the caliber, impact and visibility of investigative journalism as a means of promoting transparency and good government."
Recommended Media
Ida B. the Queen: The Extraordinary Life and Legacy of Ida B. Wells
For children: Yours for Justice, Ida B. Wells: The Daring Life of a Crusading Journalist
The Revolutionary Poet Who Was the "Godfather of Rap"
Gil Scott-Heron was a spoken word poet, jazz and soul musician, and author. The self-described "bluesologist" laid his poetry tracks over jazz, soul, and funk beats and tackled social and political issues. His best-known piece, "The Revolution Will Not Be Televised" was written by Scott-Heron when he was only 21 years old and was released on his debut album, Small Talk at 125th and Lenox. This piece in particular caught attention, because of the hook, which incorporates the title. The piece is clear that if the people were to rise up, there would be no news coverage of the event. "The revolution will not be televised. The revolution will not be brought to you…The revolution will be live."
Scott-Heron used his music as a medium for his political activism. He examined wide-ranging topics such as the Vietnam War, Reaganomics, and racial injustice. His poetry has long been cited as a precursor to modern-day Hip Hop music, and Scott-Heron became known as "The Godfather of Rap." Although Scott-Heron often downplayed his importance in the history of rap, he was clearly influential to many artists. Of Scott-Heron, Rapper Chuck D of Public Enemy has said, "Gil Scott-Heron is the manifestation of the modern word. He and the Last Poets set the stage for everyone else." Scott-Heron's work has been sampled by many artists including Tupac, Common, and Kanye West.
Recommended Media
GIL SCOTT HERON The Revolution Will Not Be Televised 2003 documentary by Don Letts for BBC
The Photographer Whose Work Documented Race Relations, Poverty, Civil Rights, and Urban Life
Gordon Parks first became interested in photography when he saw pictures of migrant workers in a magazine. At 25 years old he bought his first camera, secondhand from a pawn shop, and taught himself how to take photos. Parks moved to Chicago where he opened a portrait studio. His work outside the studio captured the diverse lives of Black Americans in Chicago, winning him recognition for his work. Parks began to photograph life on the Southside of Chicago, showing what life was really like for poor Black families.
In 1941 an exhibition of these photos won Parks a fellowship with the Farm Security Administration (FSA). The FSA was working to record an extensive pictorial record of American life throughout the country. During this time Parks took one of his most famous and iconic photos. American Gothic, Washington D.C. was named after the famous painting by Grant Wood, American Gothic. In contrast to the painting by Wood, which showcased White rural life, Parks's photograph showed a Black woman who worked on the cleaning crew of the FSA with a broom in hand in front of the U.S. flag. Throughout his career Parks documented the social and economic impacts of poverty, racism, and other forms of discrimination. Today, the Gordan Parks Foundation continues his legacy to advance "the common search for a better life and a better world."
Recommended Media
For children: Gordon Parks: How the Photographer Captured Black and White America
The Nursery School Teacher Who Ran for President
Shirley Chisholm was born in Brooklyn, New York, to immigrant parents. She spent a large part of her formative young years in Barbados living with her grandmother. When she returned to the United States at age 10, life was difficult for her family, as it was the height of the Great Depression. Chisholm did well in primary school and went on to study early childhood education at Brooklyn College. During college Chisholm became interested in the role of women in politics, organizing, and fundraising. After graduating she worked as a nursery school teacher and eventually served as an education consultant for the City of New York's Bureau of Child Welfare. She also became active in Democratic politics, helping to elect the first Black judge in Brooklyn. She became known for challenging what were considered traditional roles for Black people, women, and the poor.
Despite facing deep discrimination due to her sex and race, Chisholm ran for New York state assembly in 1964. She chose to appeal directly to women voters, and with their support she won the seat. She served in the New York State Assembly from 1965 to 1968. In 1968 Chisholm ran for New York's 12th congressional district, with the campaign slogan, "Unbought and Unbossed." Chisholm became the first Black woman elected to Congress and was the only woman in the freshman class that year. In 1972, she became the first woman and first Black person to run for a major party's presidential nomination when she announced her candidacy for the Democratic Party. In her announcement speech, she described herself as a candidate of the people. Chisholm's campaign faced significant challenges: they were underfunded, discriminated against, and not allowed to participate in televised debates. Nevertheless, she garnered much support among women and young people. Although she failed to win the nomination, Chisholm continued to serve in Congress until she retired in 1983. Of herself, Chisholm said, "I want to be remembered as a woman … who dared to be a catalyst of change."
Recommended Media
Unbought and Unbossed: Expanded 40th Anniversary Edition
For children: She Was the First!: The Trailblazing Life of Shirley Chisholm
Celebrating Today's Black Excellence
The list of above is short but powerful. But for these trailblazers who led the way, we might not have these modern examples of Black excellence:
Misty Copeland was the first Black woman to become prima ballerina at the American Ballet Theatre in 2015
Oprah Winfrey started as a local news anchor and is now known as "The Queen of All Media"
Jason Wright, a running back for seven years in the National Football League (NFL), who gained his M.B.A. and specialized in turning around struggling businesses, in 2020 became the youngest and first Black President of an NFL team
Kizzmekia Corbett, PhD, is the lead scientist on coronavirus vaccine research at the National Institutes of Health and worked directly on the development and production of the Moderna COVID-19 vaccine during the pandemic
Bryan Stevenson is the founder and Executive Director of the Equal Justice Initiative, a human rights organization that fights wrongful convictions, and argued and won the landmark case at the Supreme Court that prohibited life-imprisonment-without-parole sentences for all children 17 and younger
Kamala Harris is our first female, Black and Asian-American Vice President
Rapper Andre Young (widely known as Dr. Dre) first became a household name as part of N.W.A. in 1987 and has since become the founder and CEO of Aftermath Entertainment and Beats Electronics
Amanda Gorman, a former National Youth Poet Laureate, and the youngest ever inaugural poet, read her work, "The Hill We Climb," in 2021 at the inauguration of President Biden
Black excellence is all around us, woven as part of our American story, and that is what we should celebrate this February.
To learn more about Black History in General
I encourage everyone who wants to learn more generally about Black History to visit BlackHistoryMonth.gov, where you can find daily events, online presentations, and exhibits about Black History from the Library of Congress, National Archives, Smithsonian Institution, National Museum of African American History and Culture, National Park Service, and the United States Holocaust Memorial Museum. In addition, if you are interested in reading more about Black History, look at the Black History is American History list by Victoria Alexander on Bookshop.org, where you can find a book you are interested in and then find a local store to support with your purchase.