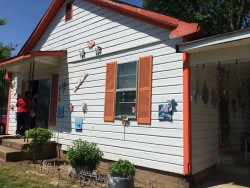 Imagine living in a state where every child enrolled in an early education center or a preschool classroom and received the highest quality of education. Imagine that every child left well prepared for not just kindergarten, but the rest of their academic careers. The Good 2 Great initiative is striving to make that vision a reality for Arkansas.
The Good 2 Great initiative is a collaboration of organizations, local community leaders, policy makers, and educators working to develop and implement strategies that will improve the quality of early education in Arkansas. Organizational partners include the Winthrop Rockefeller Foundation, The Arkansas Community Foundation, Arkansas State University's Early Childhood Services, the Arkansas Public Policy Panel, Arkansas Advocates for Children and Families, and the Clinton School for Public Service Center on Community Philanthropy (CCP).
Over time, the state of Arkansas has been nationally recognized for its pre-K programs; but, there's still work to do in moving Arkansas from good to GREAT in early childhood development. The initiative focuses its efforts on three communities: Marvell, Elaine, and Prescott, where community advisory committees comprised of local residents and community leaders from each city give direction for Good 2 Great's efforts. The core team of organizations then provides professional support, collects pertinent data, and tracks the progress of the communities over time in hopes to develop early education models that can be used statewide.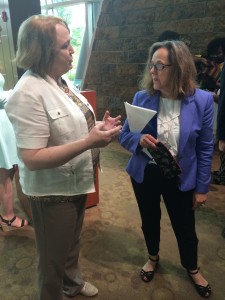 As an additional component to the initiative, Good 2 Great (in collaboration with the CCP) launched a week-long fellowship program that brought in a national expert in early education to give perspective and recommendations on how Arkansas can advance its early educational programs and policies. Earlier this month, the Good 2 Great initiative welcomed the knowledge and expertise of its first fellow, Dr. Joan Lombardi. Lombardi's visit was part of the Scholar-in-Residence Program with the CCP. Over the past forty years, she has taught pre-K education, has led early childhood development efforts for three presidential administrations, and currently serves as the director of Early Opportunities LLC. She is also a senior advisor to early education funds and foundations.
Throughout the week, Dr. Lombardi emphasized the importance of community voices when developing solutions and fostering parent involvement not just in the schools, but in the lives of children. Because of this belief, she spent the first few days of her visit listening to the community leaders and early childhood experts in Marvell-Elaine and Prescott. She visited early education centers and talked to legislators, school administrators, parents, teachers, and community members to learn more about the communities from the residents and educators themselves. While she gave community leaders examples of things that other communities across the country are doing to address similar concerns. After her community meetings, she also met with statewide leaders of early education who develop statewide policies. Dr. Lombardi reminded them of the importance of connecting and empowering local leaders.
Dr. Lombardi concluded the week with a presentation at the Hillary Clinton Children's Library in Little Rock. During her speech, she reminded the audience that, "we have to commit ourselves to the development of all 250,000 children from birth to five in Arkansas" and encouraged a focus in three areas: quality of programs and coaching early childhood providers, substantive community input, and developing a data dashboard to set goals. Since learning takes place not just in the classroom but in the community, she mentioned that community involvement and partnerships matter. She commended the Good 2 Great initiative's efforts to foster community relationships and building a data dashboard to set goals and track progress.
One of the most rewarding parts of her presentation was her connection of early childhood development to the well-being of the family. She recommended a two generational approach that creates an environment for not only children to learn and develop, but also policies that strengthen families (like paid sick time, the earned income tax credit, etc.) so that parents can spend more of their time interacting with their children.
Having Dr. Lombardi in Arkansas empowered local leaders to exercise their voice in shaping their communities to better serve children and renewed Good 2 Great's efforts to improve quality early education and strengthen families in Arkansas going forward.