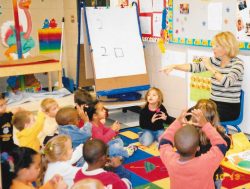 Fourteen years ago, in August 2004, the Jonesboro, Arkansas, School District launched its first pre-K program. The Jonesboro Pre-K Center was licensed for 186 early learners and was housed in the newly renovated Jonesboro Administration Building on Flint Street. This year, 39 students from the original class are graduating from high school. It's an exciting milestone worthy of celebration, and the Jonesboro School District is ready to kick off the party.
In 2004, the ABC-accredited Pre-K Center opened its doors with a staff that included eight full-time, certified employees, 11 paraprofessionals, a Spanish-art-music and Suzuki method teacher, a drama teacher (on occasion), a part-time nurse, and a handful of other employees, according to then-Director Michelle Curtis.
In a Jonesboro Sun story printed on September 19, 2004, Assistant Superintendent for K-12 Curriculum Dr. Sue Castleberry underscored the need for a pre-K center in Jonesboro. She said Jonesboro kindergarten teachers indicated that some children start kindergarten unprepared for school and fall behind before they ever really get started.
"They may come in without socialization skills, and they may never have been around other children," she said.
It was true then, and it's still true today: Instruction in a high quality pre-K program is one of the best ways to prepare our littlest learners for kindergarten and beyond. Studies show that early learning experiences influence health, social, and economic outcomes. High-quality pre-K helps build early literacy, social-emotional and executive function skills (enabling children to plan, focus attention, remember instructions and juggle several tasks).
Our state benefits tremendously from quality pre-K as well, with a very conservative estimate telling us that for every $1 Arkansas invests, we reap $7 in return. And, with the problem-solving foundation laid in pre-K, our future workforce is set to think critically and lead the state's economy.
Read more about what it takes to prepare our little ones for success in school in a recent report by the Arkansas Campaign for Grade-Level Reading and Arkansas Advocates for Children and Families: "What Do Our Littlest Learners Need to Be School-Ready?"
Now, the children in Jonesboro Public Schools' inaugural pre-K class are all grown up. Thirty-nine students out of the original class are graduating seniors at Jonesboro High School. The youths and their families, the Jonesboro school board, and the original pre-K teachers and administrators will celebrate this milestone with a "Pre-K Reunion" at 9:30 a.m. on Wednesday, April 4. The event will be held at the original Jonesboro Pre-K location at 1307 Flint Street.
Arkansas Advocates for Children and Families joins the Jonesboro community in uplifting this pre-K success story. This is just one of the many stories around the state that underscores the importance of high-quality pre-K to Arkansas's children and families, our communities, and our economy. Find out more about the event and Jonesboro's pre-K program here.