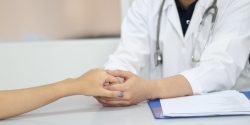 Today, U.S. District Judge James E. Boasberg ruled that Arkansas's work reporting requirement cannot continue because it violates the purpose of the Arkansas Works program. The decision puts a stop to a deeply flawed, misguided policy. For now, Arkansans can no longer lose coverage because of the requirement, which is a big victory for health care in Arkansas.
Nine Arkansas Works beneficiaries, who lost their coverage due to the work reporting requirement, sued the U.S. Department of Health and Human Services, which oversees Medicaid. Legal Aid of Arkansas, the National Health Law Program and the Southern Poverty Law Center represented the plaintiffs.
The judge's ruling in the plaintiffs' favor reaffirms Medicaid's fundamental purpose as a health insurance program. As he stated in the ruling, the Department of Health and Human Services' approval of the requirement was "arbitrary and capricious" because it did not address how the project would further the core objective of Medicaid: the provision of medical coverage to the needy.
We couldn't agree more, and we applaud today's ruling and are grateful that Arkansas Works will continue to cover hard-working, low-income Arkansans who don't earn enough to pay for health insurance or aren't offered health insurance through their jobs. Today's decision only stops the work reporting requirement, which was a burdensome process that put up administrative barriers but did nothing to support or incentivize work. The rest of Arkansas Works will continue, giving people the health coverage they need, without unnecessary red tape.
We believe in the value of work. If we truly want to encourage work, we need to stop efforts to take away health insurance from people who need it and look at policies that improve our economy, provide more jobs at a livable wage, and help train people for those jobs. And it's important to note that the majority of Medicaid recipients are already working. This policy was designed to make it harder for low-income Arkansans to keep coverage, and unfortunately it was very successful while it was in place.
Arkansas pioneered the use of federal Medicaid expansion funds in 2013 to create a "private option" under the Affordable Care Act. Nearly 300,000 Arkansans gained health insurance within five years, and the state was touted as a bipartisan example to be followed for helping its citizens have greater access to affordable health care. The Medicaid expansion helped Arkansas cut the rate of uninsured adults by more than half from 2013-2016, more than 12 percentage points. Arkansas and Kentucky led the nation in the reduction of uninsured adults during those years following the implementation of the Affordable Care Act.
About 18,000 people lost their health coverage since June 2018 when the requirements were first implemented. The state should move quickly to track down and re-enroll those who are eligible for coverage through Arkansas Works.
You can read the judge's full ruling here.
And click here to get a printable flyer with information on how people who lost their coverage can re-enroll.