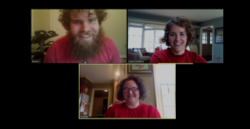 In response to the COVID-19 pandemic, we want to update you on what is happening at Arkansas Advocates for Children and Families.
Our mission has always been to ensure that all children and their families have the resources and opportunities to lead healthy and productive lives and to realize their full potential.
In many ways, this crisis highlights the importance of our work on behalf of kids and low-income families. Having access to health insurance, paid sick leave and economic security is something most of us take for granted; and even in times like these, we know how to navigate the system. But that's not true for many Arkansans, and we have to put better policies in place to help them.
We are tracking state and federal policy responses to the virus. We are continuing our diligent efforts to provide research-based policy analysis and recommendations for Arkansas's lawmakers and fellow advocates on a range of topics, as always. Our focus is on both short-term and long-term policies, as we work to better position Arkansas families for success now and once the current crisis is over.
For example, we're working to improve policies to help thousands of Arkansans facing this crisis. We're working with policymakers to make changes to SNAP (food stamps), unemployment insurance, Medicaid and other important programs to protect Arkansas's most vulnerable. Follow our analysis on these issues on our website, and watch our Twitter feed and Facebook page for updates, as things change quickly.
We are taking care of our team, which means that all AACF staff are working from home until further notice. Should you need to reach any of our staff, you can find our email addresses by selecting a "card" on our Staff page.
We'll be here for you – and for our community – every day over the coming weeks and months, when sound policies are needed more than ever. The primary message we want to share with you today is one that you already know and believe. We are all in this together. We are only as safe as our most vulnerable children and families. The work we do is critically important.
Finally, we recommend the following Facebook pages for updates on COVID-19, as it relates to Arkansas and meeting the needs of vulnerable populations:
UAMS – University of Arkansas for Medical Sciences
Arkansas Hunger Relief Alliance
We're in this together!