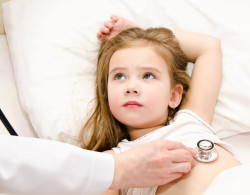 Lawmakers will soon make recommendations to the Governor about how we transform the health care system in Arkansas, and one of the big decisions is about the role of managed care organizations (MCOs). A recent report includes recommendations to reduce health care spending and improve the quality of care that people receive by offering meaningful care management, particularly for high costs populations. AACF strongly supports using care management to improve the quality of health care for children and families. Research shows better coordination of care and management of chronic conditions can reduce health care spending and improve health outcomes.
There are several models that states use that vary by risk to provider and some involve contracting with a third party (summarized in the chart). The risk refers to the party responsible for the costs related to care of the patient. In Arkansas, there are primarily two options up for consideration in Arkansas: risk-based managed care and Health Home (as an extension of the Patient Centered Medical Home).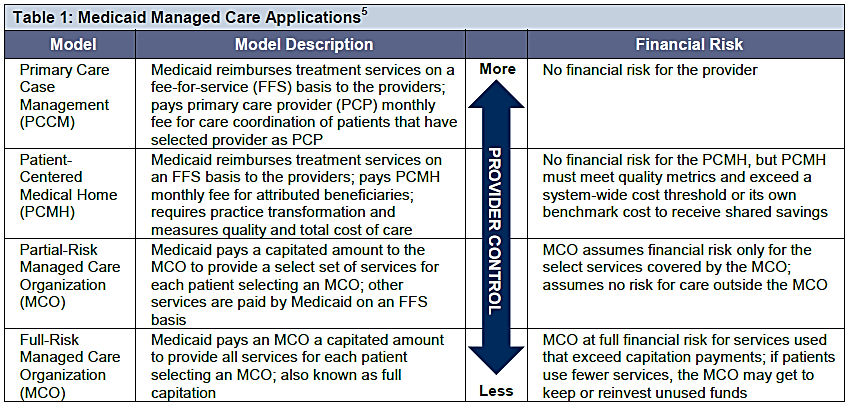 Source: Arkansas Center for Health Improvement (ACHI)
Since full-risk managed care organizations (MCO) results are mixed, several key issues must be considered regarding impact on access, costs, and quality.  Despite the projected cost-savings in the report to Arkansas lawmakers, the data on managed care in Medicaid is mixed.  The great majority of MCO models in states involve children, pregnant women and parents, while disabled and aged beneficiaries are far less likely to be in managed care.  Some of the challenges for states when considering high needs and high costs populations are:
Establishing appropriate capitation rates because fee-for-service data is not always the most accurate due to variations in enrollees' health status and service needs and the difficulty of refining risk adjustment methodologies.
Managed care for persons with disabilities is not likely to generate short-term savings because high capitation rates are often needed to entice managed care plans to the market and there are up-front administrative costs.
So how do we manage the care of the most vulnerable Arkansans, while reducing costs and improving quality?  
Health Homes were designed to do exactly this—coordinate care for people with complex needs that require high-cost services.   Health Homes are meant to be an extension of the Patient Centered Medical Home (PCMH).  While the PCMH receives an incentive to manage the overall health of patients, the Health Home adds another layer of support for the sickest patients in the Medicaid program.
This model is already part of the ongoing Health Care Payment Improvement Initiative (HCPII) and a few years of work has gone into developing a health home model in Arkansas, but was not implemented. The federal dollars are also available to states to cover 90 percent of the costs of Health Homes for the first eight quarters.  
This approach would give us a few years of data to measure the impact care management has on access to care, quality of care, and cost containment.  The state will also have sufficient data to then determine if more sweeping structural changes are necessary.  Before changing directions to contracting with a MCO, the state should invest in full implementation of HCPII.
Most importantly, planning and implementing any type of structural change must be done in a consumer-friendly manner. Public engagement and feedback from the families receiving services should be a part of the process.  There must be some assurance of a smooth transition from today's fee-for-service Medicaid to avoid disrupting any existing patient-provider relationships.  Protecting consumers' rights must also be a priority and ensuring there is not a negative impact on access to care and quality.