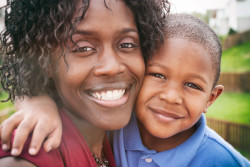 One in five young children experience serious concerns with emotions and behavior.  Mental health issues can lead to behavior problems in young students and disciplinary action that keeps kids out of the classroom.
A new strategic plan released today outlines a number of recommendations to address this problem in Arkansas.  Arkansas' Strategic Plan for Early Childhood Mental Health was developed by the Arkansas Early Childhood Comprehensive Systems Social-Emotional Workgroup.  According to the report, there are many signs that Arkansas children and families are at risk for poor mental health outcomes.  Studies show that about 16 percent of children in Arkansas pre-kindergarten programs have serious concerns with emotions and behavior.  Arkansas children are expelled from preschool programs at three times the rate of children in kindergarten through 12th grade. For many children, these problems will worsen as they age, resulting in lifetime costs estimated at between $1.7 and $4.4 million.*
"Sometimes even very young children are at risk for developing mental health concerns because of problems in their relationships and environments," says Teri Patrick, president of the Arkansas Association for Infant Mental Health.
Problems like parental depression, substance use, or domestic violence problems interfere with the development of a healthy relationship between the parent and child and place the child at risk for mental health concerns.  In these situations, the best way to help the child is by getting the parent the support they need and mental health interventions that give them tools to support their young children.
There are solutions to this problem. The strategic plan suggests a number of ways to support healthy social and emotional development in young children, even in children who are at high risk.
"We know what works to support young children and their families" says Dr. Nicola Conners-Burrow of the University of Arkansas for Medical Sciences.  "We have parenting education and home visiting programs that have been proven effective for Arkansas children and families, and we know the positive impact of high quality child care on children's social and emotional outcomes."
Unfortunately, these services are not always available to the families that need them.  The strategic plan offers concrete steps that can help move Arkansas in the right direction by committing resources to doing more of what works because it will be cost-effective in the long-run.
Among the recommendations:
The most at-risk families should be supported with services designed to keep families together.
Younger children and their families should be fully represented in state cross-systems initiatives to support mental health.
Evidenced based screenings for social-emotional problems in young children and serious family risks will be expanded and referrals to appropriate services will be enhanced.
Early childhood mental health care providers and early care and education providers should receive the supports necessary to improve child social-emotional outcomes.
Public awareness of the mental health needs of young children should be increased.
The Arkansas Association for Infant Mental Health will host the Bright Futures Begin Early conference on June 5, 2015 to bring together state leaders to discuss the strategic plan and next steps for supporting early childhood mental health in Arkansas.  National expert Deborah Perry, from the Georgetown University Center for Child and Human Development, will also discuss the importance of integrating infant mental health across various systems serving young children and the impact of maternal depression. To learn more and register for the annual conference, visit www.aaimh.org .