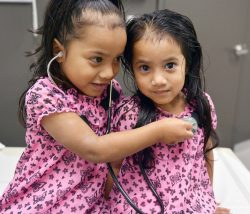 Arkansas has long sought a solution to the lack of ARKids First eligibility for children who lawfully migrate here from the Marshall Islands. On Monday, a smart solution emerged in the Arkansas House of Representatives.
House Concurrent Resolution 1012 by Rep. Jeff Williams and Sen. Lance Eads, both Springdale Republicans, outlines a way that we can begin covering Marshallese-born children whose families would otherwise be eligible for ARKids First. As of today, these children are never allowed to sign up, no matter their family income and no matter how long they live in Arkansas.
This is true even though their families migrated here lawfully. It isn't true of children born in almost any other country in the world (this is because of the unique migrant status granted to the Marshallese that allows the U.S. military access to their islands). That's not fair to thousands of families who live and work here in Arkansas – mostly in Springdale but also in Pine Bluff, Jonesboro and other areas as well.
The resolution filed Monday encourages Governor Hutchinson to seek an amendment to our state Medicaid plan from the federal government. The change would allow us to cover lawfully residing migrant children for the first time by taking a state option known as the Immigrant Children's Health Improvement Act (ICHIA). It breaks down several barriers to coverage for lawfully residing immigrant and migrant children. Since the federal law passed in 2009, 31 states (including the District of Columbia) have taken this option.
It's time Arkansas did, too.
Even though HCR1012 doesn't change state law, it's still a powerful solution. That's because we can seek the Medicaid change without a new state law. If he agrees, Governor Hutchinson would just ask for approval of the plan amendment from the federal Centers for Medicare and Medicaid Services.
You can read more about this issue in Arkansas Advocates' one-pager here.
This is the right thing to do, and it's right to do it now.
This does not increase costs to the state. The newly enrolled children are covered with 100 percent federal dollars, like all kids in the Children's Health Insurance Program, at this time.
When children get preventative care, all our children are healthier.
Though most states have already taken this option, it benefits Arkansas in particular because we have the largest Marshallese population in the continental United States.
This is a fairness issue.
The bill will first be heard in the House Committee on Public Health, Welfare and Labor. Members of that committee are listed here.
Read even more in an Arkansas Democrat-Gazette article here.