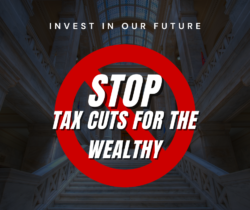 Now is the time to invest in Arkansas
Every child in Arkansas should have the chance to thrive, regardless of their zip code or how much their parents earn. Our state government has the ability and responsibility to invest in kids, their families and the places they live, work, and play. Programs like health care, great public schools, rural development, infrastructure, and more can make a big difference in the lives of children and, in turn, the future of our state.
This spring, the Legislature passed a tax cut that will shortchange our state $139 million a year. Arkansas just committed to LEARNS, a major education-system overhaul, the cost of which we don't yet know. Now is not the time to cut our state budget.
Those dollars should instead be invested in building strong communities that foster equal opportunities and support the prosperity of all families and children.
The proposed tax cuts will cost Arkansas $222 million every year. And 70% of this tax cut will go to the top 20% of earners in Arkansas, who make an average annual income of $264,000.
The top 1% – people with average incomes over $1.6 million annually – would benefit from an average tax cut of $3,409, while a middle-class Arkansas family making $52,000 would only see a $35 tax cut. The current tax breaks being considered will largely benefit the wealthiest during a special session.
Another round of tax breaks won't do much to help the average Arkansan, and they definitely won't get Arkansas where we need to be.
Here are a few ideas of how we could invest in Arkansas to make our state a better place to be and raise a child:
Expand broadband access
Address food deserts and related hunger issues
Broaden access to substance abuse services
Expand community-based programs for youth
Meet the increasing need for mental health services
Provide health insurance for uninsured children
Expand access to post-partum care for new moms
Increase funding in the state's preschool program