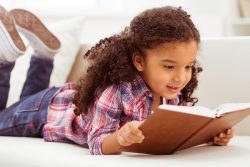 When do children begin to learn? Believe it or not, school readiness begins in the womb. Research show the first few years of life, including the prenatal months, are the most important for healthy brain development. Unfortunately, too many kids aren't getting the boost they need in the infant and toddler years.
Earlier this year, Arkansas Advocates for Children and Families and the Arkansas Campaign for Grade-Level Reading released a new report, "What Do Our Littlest Learners Need to Be School-Ready?" This report focuses on a few factors that have the greatest impact on school readiness: good health, positive early learning experiences, and strong families with economic stability. This blog post is the third in a series highlighting key findings from that report.
Early childhood education has a significant effect on children's safety and sense of trust in adults, their physical and emotional well-being, long-term health outcomes, and their parents' ability to remain in the workforce. Early childhood leaders in Arkansas have been working to improve the quality of early childhood programs and capacity and coordination between programs at the state and local level.
Access to quality early childhood programs
In 2016, the Arkansas Department of Human Services, Division of Child Care and Early Childhood Education (DCCECE) and the Arkansas Head Start State Collaboration Office released new state standards to increase the quality of early childhood programs. These standards cover the developmental needs of children from birth to age 5 and show the expected progression across a range of domains including social and emotional development, physical development and health, language development, emergent literacy, and mathematical thinking.
However, quality is still uneven across the state, and access is limited, even if parents can afford it. Infants and toddlers from low-income families can find affordable care through two sources: 1) Early Head Start or 2) child care centers that accept Child Care Development Fund (CCDF) funding. For the 31,428 infants and toddlers who live in low-income families across the state, there are only 2,300 Early Head Start slots and 2,044 CCDF slots.
Of the 34,500 licensed infant and toddler slots, just 8,123 of them are in centers with the state's highest Better Beginnings quality rating (Level 3). The Division is working to move all centers to a level 3 and hopes to add even higher rating levels in the future.
 What can be done?
Arkansas can help infants and toddlers become school-ready in the following ways:
Continue efforts to increase Better Beginnings ratings: The Division of Child Care and Early Childhood Education should add levels 4 and 5 to its Better Beginnings quality rating system, to provide models and incentives for even higher levels of quality.
Serve more infants and toddlers through high-quality child care and Early Head Start: Current funding for child care and Early Head Start serves only 4,344, or 13 percent, of eligible infants and toddlers. The Child Care Development Fund and Early Head Start are both federally funded. The state should consider funding to help close the gap.
Gather data to better understand where our youngest children are being served: The state needs a comprehensive picture of the number and demographics of children served and gaps that need to be filled.
Encourage and provide incentives for coordination of existing programs serving infants and toddlers: Local communities should take a more deliberate approach to connecting and coordinating existing services for infants and toddlers and working with pre-K and Head Start programs and local school districts to build a continuum of services from birth to kindergarten. This might include analysis of enrollment data, mapping of services, alignment of curricula, transition planning, and shared professional development. State agencies and statewide organization partners may need to develop data sharing agreements, policy guidance, and other documents to support these local efforts.
To read AACF's full report, "What Do Our Littlest Learners Need to Be School-Ready?", visit https://www.aradvocates.org/publications/what-do-our-littlest-learners-need-to-be-school-ready