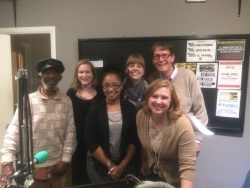 On January 4, 2017, Arkansas Advocates for Children and Families and KABF 88.3 aired the first episode of "Speak Up Arkansas," a talk radio show dedicated to covering issues like health care, education, juvenile justice, the state budget, family and economic security, and more.
The segment was first in a series that will air every Wednesday at 5 p.m. The AACF team discussed what's at stake in the legislative session and how Arkansans can stay informed, hold lawmakers accountable, and make an impact.
Hear the entire one-hour segment in this podcast and tune in to KABF 88.3 at 5 p.m. Wednesday, Jan. 11, for episode 2, which will cover school discipline and feature our friends from the Arkansas Public Policy Panel.