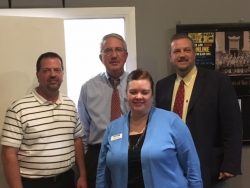 On June 14, 2017, at 5 p.m., Arkansas Advocates for Children and Families and KABF 88.3 aired the twenty third episode of "Speak Up Arkansas," a talk radio show dedicated to covering issues like health care, education, juvenile justice, the state budget, family and economic security, and more.
This week's episode featured panel members Randy Zook (President and Chief Executive Officer of the Arkansas State Chamber of Commerce and the Associated Industries of Arkansas), Roger Rich (Superintendent of Southside Schools-Project Future), W.J. Monagle (Executive Director, Little Rock Workforce Development Board), and Cindy Varner (VP of Workforce Development at Goodwill- Excel Center). The change in available jobs and educational requirements has impacted access into middle class. Workforce development is a critical component of our economic future. Panel members discussed the role of business, government, non-profits and local communities to develop a workforce that can assure the economic sustainability of Arkansas.
Hear the entire one-hour segment in this podcast and tune in to KABF 88.3 every Wednesday at 5 p.m. for more great segments. Send questions and comments to speakupar@gmail.com.