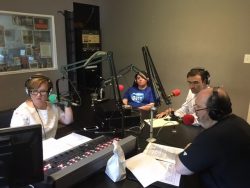 On July 5, 2017, at 5 p.m., Arkansas Advocates for Children and Families and KABF 88.3 aired the twenty sixth episode of "Speak Up Arkansas," a talk radio show dedicated to covering issues like health care, education, juvenile justice, the state budget, family and economic security, and more.
This week's episode featured guests are Rich Huddleston, Aaron Strong, and Susanna O'Daniel. Rich Huddleston talked about the financial, economic, and number of folks who would loose their insurance. Aaron Strong talked about the impact of the bill on the services to children. Susanna O'Daniel talked about the impact on students and their educational outcomes.
Hear the entire one-hour segment in this podcast and tune in to KABF 88.3 every Wednesday at 5 p.m. for more great segments. Send questions and comments to speakupar@gmail.com.