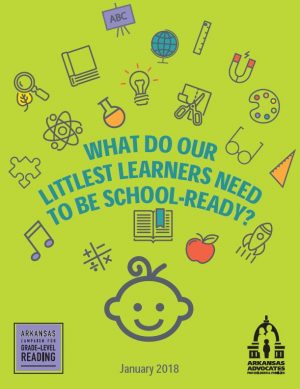 On January 3, 2018, at 5 p.m., Arkansas Advocates for Children and Families and KABF 88.3 aired the fortieth episode of "Speak Up Arkansas," a talk radio show dedicated to covering issues like health care, education, juvenile justice, the state budget, family and economic security, and more.
This January Arkansas Advocates released the report "What Do Our Littlest Learners Need to Be School Ready?" in partnership with the Campaign for Grade Level Reading. In this episode of Speak Up Arkansas guests discussed three core points on what little learners need outlined in the report:
Good Health: Access to developmental and mental health screenings and treatment, as well as social-emotional learning;
Positive Early Learning Experiences: Access to quality child care, Early Head Start, early interventions, and literacy activities between parents and their children; and
Strong Families: Ongoing parent education, engagement, and support, including prenatal care and paid family leave.
Dr. Ginny Blankenship: Education Policy Director Arkansas Advocates for Children and Families
Dr. Kathy Pillow-Price: Arkansas Home Visiting Network
Dr. Nikki Edge: UAMS and Arkansas Association for Infant Mental Health
Jackie Govan: Arkansas Head Start State Collaboration Office