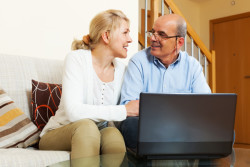 More than 130,000 Arkansans benefiting from the state's decision to accept Medicaid expansion work in industries that are the foundation of the state's economy. Those on the state's Private Option work in jobs ranging from sales and food service to construction and health care, according to a study released today by Families USA.
"By expanding access to coverage, we are ensuring we have a strong, healthy workforce in Arkansas," said Rich Huddleston director of Arkansas Advocates for Children and Families (AACF). "We are supporting our friends and neighbors who work in industries that are critical to the Arkansas economy, like food services and health care."
Without Medicaid expansion, many of these people would have fallen through the cracks in the health care system – making too much for traditional Medicaid, but too little to qualify for subsidies on the insurance marketplace, said Ron Pollack, executive director of Families USA.
Fifty eight percent of the state's residents who benefit from Arkansas's Medicaid expansion, which went into effect last year, work in sectors critical to the Arkansas economy.
"This study shows Medicaid expansion is a success story in Arkansas," Pollack said. "The people it helps have tough jobs in industries that traditionally don't provide health insurance. Now after a hard day's work, they can sleep with the peace of mind that health insurance provides – knowing that a sudden accident or illness won't wipe out their savings and dreams for the future."
According to the study, following is the breakdown of occupations of those more than 130,000 Arkansans who benefit from Medicaid expansion:
20,000 in food service, working as fast food workers, waiters and cooks.
17,000 in sales, working as retail salespeople, cashiers and clerks.
15,000 in construction jobs, including carpenters, painters and laborers.
13,000 in production, including team assemblers, machinists and welders.
12,000 in cleaning and maintenance, including janitors and landscapers and housekeepers.
12,000 in office and administrative support, including bookkeepers, receptionists and stock clerks.
11,000 in transportation as truck drivers, freight laborers and bus drivers.
6,000 in health care support, including nursing assistants, orderlies and home health aides.
6,000 in personal care, including barbers, child care workers, hairdressers and personal care aides.
An additional 20,000 work in a variety of other jobs.
Under the Private Option in Arkansas, which went into effect in 2014, states can offer Medicaid coverage to residents with incomes up to 138 percent of the federal poverty level, which is $27,720 for a family of three. For the first three years, the federal government pays 100 percent of the costs. Starting in 2017, states will begin paying a small portion of the costs, which will be capped at 10 percent in 2020.