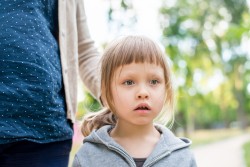 Potentially devastating budget cuts – now under consideration at the state legislature – would endanger children in foster care and halt the progress we were just starting to make to improve our child welfare system.
We want to give every child the best possible chance to grow up in a safe, loving home, and we've been working toward that goal by making improvements over the past several years. The Division of Children and Family Services (DCFS) has just begun to put in place several best practice programs to give children that better chance we seek.
Several of these include:
The Nurturing Parent Program to help teach better parenting skills.  

New assessment tools to identify the needs and strengths of children and their families.

Structured Decision Making to help make better judgement calls when children are not safe.

Differential Response to provide services to families who need help, but the situation doesn't rise to abuse or neglect yet.
With an increase in the number of children needing foster care and now the potential of losing even more funding, we will reverse the progress we have made, which means putting more children at risk.
The foster care system needs $20 million simply to maintain efforts to keep up with the current caseload. That $20 million would just keep the status quo, meaning each caseworker would have 29 foster care cases. The Child Welfare League of America recommends no more than 15 cases to keep children safe.
If the budget is cut in half by $11 million in the fiscal session, as has been proposed if Medicaid funding is not approved, caseloads will increase to 48 cases per worker, three times the professionally recognized number to keep kids safe. When caseworkers are that overloaded, tragedy is hard to prevent. When caseworkers are pushed to the brink and beyond, children cannot be protected the way we want them to be protected.
Here is how it plays out in real time for caseworkers & children:
When a call is made to the child abuse hotline, child protection must go out and investigate within 24 to 72 hours so that we can determine whether a child can safely remain at home. Timely investigations are critical to ensure child safety, which is the primary mission of every child welfare system. Cuts to the child welfare staff will jeopardize the ability to meet this timeline, putting children at greater risk for abuse and neglect and potentially lead to child fatalities.
Caseworkers play a critical role in ensuring that children in foster care who have experienced the trauma of abuse or neglect can stay in school and access critical services, including timely medical care, mental health services, visitation with parents to maintain their attachment to their family, and more. Higher caseloads will mean fewer opportunities to access this help for children in a timely way.
Children in foster care should have every opportunity to return back home or live in another permanent family as soon as possible. Helping children leave the foster care system as soon as possible requires significant staff time to support families, present a child's case in court, and partner with community stakeholders who are also invested in helping children succeed. Cuts to existing staff inevitably will lead to longer stays in foster care.
The budget cuts could very seriously jeopardize Arkansas's' ability to meet federal mandates for child safety, permanency, and well-being. Arkansas is already lagging behind on certain federal outcomes measures (caseworkers having regular visits with children) and this will only erode our ability to make needed improvements.
States that fail to meet basic child outcomes open themselves up to significant legal challenges.  We would hate to see Arkansas face a costly and time-consuming legal battle for failure to protect children.
What all this means is that we are failing kids – they will stay in the foster care system longer and while they are there, they still won't get the services they need.
Difficult fiscal times are the most important times to protect kids. That is when kids tend to suffer the most. We must give our children the resources they need to be safe.
-By Jennifer Ferguson, Deputy Director @AACF
Note: This is the second in a series of AACF blog posts related to the Arkansas Budget crisis.