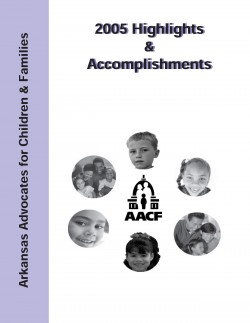 The past year has been an exciting one for Arkansas Advocates for Children & Families (AACF). The year marked the completion of our eight-year health care outreach project as part of the Robert Wood Johnson Covering Kids and Families Initiative, one of the most successful initiatives in our organization's history. 2005 also saw another major legislative accomplishment for AACF, the continued expansion of public support and new funding for quality pre-school for at-risk 3- and 4-year olds.
Earlier in the year we received two major honors, the Martin Luther King Nonprofit Salute to Greatness Award from the MLK Commission and the Cinco De Mayo Appreciation Award from the League of United Latin American Citizens (LULAC) for our work during the 2005 legislative session.
We were fortunate to have Dr. Gil Buchanan serve as Board President. Dr. Buchanan also served as AACF Board President in 1992 and has been an important part of our organization for many years. As a pediatrician, he has been a strong advocate for children's health throughout his career.
In several respects, 2005 was also a transitional year for AACF. We moved to new offices in Union Station, developed a new strategic plan to guide our future work, implemented new computer and database systems, added new staff, and began several new fundraising efforts. We also began new policy projects which included: building the network for promoting afterschool programs, protecting federal programs from budget cuts, increasing the state minimum wage, and developing alternatives to predatory payday lending.
Although we continue to see progress for Arkansas children, we know there is much more to be done to ensure that every child has the resources and opportunities to realize his or her full potential and build a better future for all families. We thank you for the confidence and trust you have shown us on behalf of Arkansas children. We especially want to thank all of our community and coalition partners, our foundation, corporate and individual sponsors, and volunteers who give so freely of their time and money on behalf of AACF and the children of Arkansas. Together we can continue to make a major difference in the lives of all children and their families.