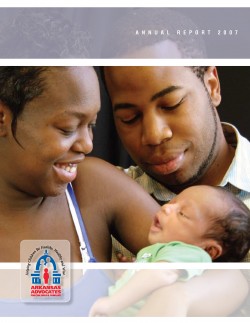 2007 was a busy and successful year for Arkansas Advocates for Children and Families. Our work set the stage for significant public policy changes that forever will aid Arkansas children.
We expanded access to high-quality early childhood education, encouraged a more fair tax system for low- and middle-income families and ushered new legislation to reform the children's mental health system. We also led a governor-supported initiative to expand access to after-school and summer programs, helped increase public awareness of the child welfare crisis of abused and neglected children, sounded the call for juvenile justice reform, and worked to eliminate predatory payday lending.
The staff and board of AACF thank all our partners and supporters for the trust and confidence you have shown in our efforts to improve the well-being of Arkansas children and families. We could not do it alone. We owe a great deal of thanks to our friends throughout the state who shared their expertise and technical assistance, the philanthropic partners who shared their resources and the volunteers who gave their time and energy.
We offer our appreciation to John Riggs, our 2007 Board President. John is a thoughtful, passionate advocate who helped guide us through our successful first session with Gov. Mike Beebe. John's leadership was invaluable to our work.
Looking ahead, we have much more to do. By working together as a community of child advocates, we can improve public policy and make a difference in the lives of current and future generations.