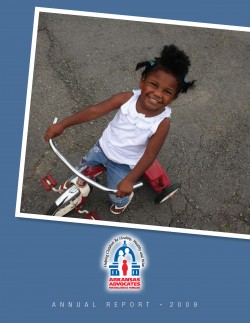 2009 was a demanding year for Arkansas Advocates for Children and Families. We spent much of the year working to make us a more effective advocacy organization. We developed a new strategic plan—with new goals and priorities—to help guide and focus our work in the new decade. We worked with our partners to assess our strengths and weaknesses and take steps to make us better advocates in years to come.
We are proud of the new ways we're communicating with our friends, partners, media and the public. We launched a new blog (ARVoices) and renovated our website. We also embraced the social media tools Facebook,Twitter, Flickr and YouTube to reach new audiences for our work. The number of fans and friends on these sites is growing rapidly.
We continued our work on key issues such as expanding access to health care coverage for uninsured children, energizing the early childhood education community, improving the quality of after-school and summer programs, monitoring reforms of the child welfare and juvenile justice systems and working to make the state and federal tax system better for vulnerable families.
2009 continued to pose economic challenges for the state's families and state policy makers, with mounting job losses, declining state tax revenues, and cuts to the state budgets. We stepped up our efforts to ensure that Arkansas policy makers take a more balanced approach to meeting the needs of vulnerable families during the economic recession.
We want to thank Freeman McKindra, our outgoing 2009 board president. During his six years on the board, Freeman was committed to taking on the tough and controversial issues when the needs of vulnerable and minority children were being threatened.
In the months ahead, the commitment of advocates like Freeman will be more important than ever. With state and federal revenues declining, major decisions will be made that could change the lives of Arkansas children. Working with our partners and state policymakers, we must ensure that their voices be heard.