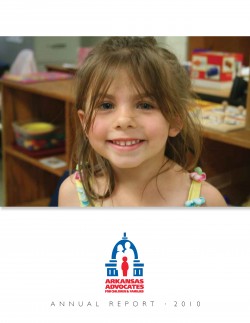 Every other year we spend months gearing up for the regular session of the Arkansas General Assembly with a flurry of research, reports and outreach. That work in 2010 was some of our most challenging yet as we prepared to serve as the voice for low-income children and families during tight financial times and a changing political landscape.
A great deal of AACF's effort in 2010 went into assisting the work of the Arkansas Legislative Task Force on Reducing Poverty and Promoting Economic Opportunity. We held town hall meetings, researched anti-poverty strategies and led the writing and release of the group's final report. The result is a template for the economic prosperity of all Arkansas families. We'll do our best to ensure that it guides policy making for years to come.
Several of our reports made big media splashes in 2010. An analysis of school district spending found that many administrators were carrying over year after year much of the money the state sends to help poor students catch up to their peers. Another report examined state spending on health programs financed by a 2009 increase in the state tobacco tax. A promised ARKids First expansion and several other programs had seen little or no new investment, despite ample revenue from the tax increase. Both these publications and several others had a direct impact on policies and programs in 2010, or laid the foundation for changes in 2011.
Throughout 2010 we worked with afterschool advocates to build consensus around legislation to create a statewide framework for afterschool and summer programs. We convened everyone involved to put together legislation to present to the Arkansas General Assembly in 2011.
These are just a few examples of the huge amount of work the AACF staff, board members and supporters did in 2010. We're grateful for the guidance throughout the year of our 2010 board president, Willa Black Sanders. Her steady leadership was invaluable as we strengthened our partnerships with many other Arkansas organizations.