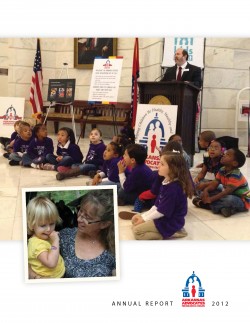 The past year at Arkansas Advocates for Children and Families has been one of expansion and innovation. Improved access to early childhood education has always been something that we've worked toward at AACF. This year we expanded our education work to two important issues that affect our children: improving grade-level reading for children in the early grades and ensuring equitable opportunities to learn for all students.
AACF worked closely with the Winthrop Rockefeller Foundation to launch the Arkansas Campaign for Grade-Level reading, a statewide effort to make sure kids are reading at grade level by the end of third grade. We've also partnered with the Arkansas Opportunity to Learn Campaign to make sure all kids have an equal opportunity to learn. We look forward to continuing this work in 2013 to make sure all Arkansas children have an equal opportunity to learn and succeed.
The way we communicate about our work is also evolving. In November, we launched an incredibly successful social media campaign around our work to extend Medicaid to those who qualify under the new health law. By using new media tools, we were able to start a conversation about an issue of vital importance to the state of Arkansas. A new e-advocacy email system also allows us to target audiences around the state, encouraging them to take action by calling and writing their legislators.
As AACF turns 35, I am constantly reminded how we could not do this work without the help of our volunteers, board members, and donors. This year we held five different events honoring our 35th anniversary in Little Rock, Fayetteville, and Rogers, raising over $25,000. In addition, over 50 people joined our Champion of Children giving circle by making a significant investment in our work ($1,000 or more). We could not be more thankful for everyone's help and support and we look forward to building on the relationships we've made.