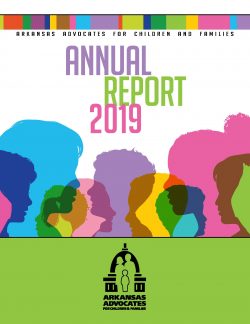 While much of 2020 has already been dominated by the COVID-19 pandemic, we are pleased to release our 2019 annual report. 
What a busy year 2019 was! The 92nd General Assembly dominated between January and April, with more than 1,091 bills passed. Working with our partners and coalitions, Arkansas Advocates for Children and Families (AACF) helped introduce 12 bills from our 2019 legislative agenda. We testified before legislative committees, and we hosted 140 child advocates at our Kids Count Day at the Capitol. Our governmental affairs director and policy staff spent hours working with legislators and our partners to help gain the passage of laws that will make real improvements in kids' lives. We are especially proud of the gains made in juvenile justice reform and in school discipline practices.
Of course, the legislative session wasn't the only action we saw last year. As you'll read in the following section, we have turned our attention to putting racial equity at the center of all our work at AACF. We are identifying racial disparities in our state and surfacing solutions to help improve the lives of every child in Arkansas. It's important to us that we bring our supporters along with us on this journey, so I hope you'll spend some time on those pages.
We spent a great deal of time advocating against the Arkansas Works (the state's Medicaid expansion program) work-reporting requirement, and we were pleased when the U.S. District Court for the District of Columbia ruled that the work-reporting requirement violated the purpose of the Arkansas Works program and a federal appeals court panel upheld that decision. We will, of course, actively monitor future court appeals and any other threats to our state's Medicaid programs, which provide health coverage to hundreds of thousands of Arkansans.
In 2019 we dedicated a lot of effort toward examining the health and other benefits that would come from enacting a state-level Earned Income Tax Credit, as well as exploring ways to encourage Arkansas to adopt this important anti-poverty measure.
Last year we expanded our team to add two new positions: a Northwest Arkansas development director and a racial equity director for advocacy. Our team spent the year growing together, learning each other's skills and strengths, and I'm looking forward to seeing the progress we make toward improving the lives of Arkansas's children and families.
Of course, none of our work would be possible without the support of our donors and funders. If you donated in 2019, we thank you graciously, and we hope you will continue supporting us. If you are new to the organization, I hope this annual report will inspire you to help us be a strong voice for Arkansas's children and families.