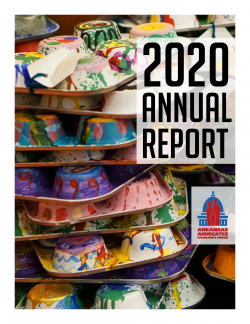 Arkansas Advocates for Children and Families' (AACF) mission has always been to ensure that all children and their families have the resources and opportunities to lead healthy and productive lives and to realize their full potential.
In many ways, the COVID-19 pandemic and resulting economic strain highlighted the importance of our work on behalf of kids and low-income families. Having access to health insurance, paid sick leave and economic security are things many of us may have taken for granted. We must put better policies in place to ensure that all Arkansans can access critical programs when they need them.
In 2020, the racial disparities seen in the COVID-19 pandemic — both in health outcomes and the financial crisis — and the killing of Black people around the country, including George Floyd, Breonna Taylor and Ahmaud Arbery, resulted in a national reckoning of racism and inequity. We must do more to address structural racism in America, and there are changes we can make now.
From the very onset of the pandemic, we tracked state and federal policy responses to the virus. We continued our diligent efforts to provide research-based policy analysis and recommendations for Arkansas's lawmakers and fellow advocates on a range of topics. We focused on both short-term and long-term policies, to better position Arkansas's families for success throughout the pandemic and once it is over.
For example, we worked for months with state and national partners to push for the second round of federal COVID-19 relief legislation that was included in the omnibus spending bill that passed in late 2020. We directly lobbied our members of Congress, organized a sign-on letter, posted consistent social media messages and sent action alerts. We asked lawmakers to pass meaningful legislation that would help those most impacted. And we advocated for the inclusion of critical provisions, such as aid to state and local governments, eviction protections and rental assistance, increased SNAP benefits, childcare assistance and extended jobless benefits.
Understandably, fundraising looked very different in 2020, both in terms of foundation funding and individual gifts. As a result, we had to do more advocacy this year with fewer resources, which placed unprecedented demands on our staff.
The pandemic also changed how we did our advocacy work. The need to advocate virtually posed major challenges for us. We could not meet face-to-face, neither internally with our board and staff nor externally with our partners and policymakers. We could not attend meetings at the Capitol, which meant we were not in the room when important decisions were made; nor could we directly and personally engage in ways that have proven beneficial in the past.
To keep our friends and supporters abreast of Arkansas's response to the pandemic, we published a weekly, then biweekly, email newsletter. And we maintained a list of pandemic-related resources for Arkansans around the state.
As we do every other year, we worked with our board and our partners to develop a legislative agenda for the 2021 session of the Arkansas General Assembly. Our primary focus was on legislation both to protect the well-being of Arkansans being disproportionately impacted by the pandemic and to promote their ability to succeed as we begin to come out of the pandemic.
Most importantly, we took care of our team, with all AACF staff working from home for the duration of 2020. We modified our policies to best support staff if they became ill with the virus, had to take care of a family member who had fallen ill, or who had children at home during work hours. We added a weekly informal staff meeting and enjoyed learning more about each other from a distance.
As we publish this annual report, the pandemic is ongoing, though we can see light at the end of the tunnel. We will remain vigilant in our efforts, as sound policies are needed more than ever. All of us at AACF are thankful for your interest our work. Our advocacy efforts are stronger because of friends and supporters like you.