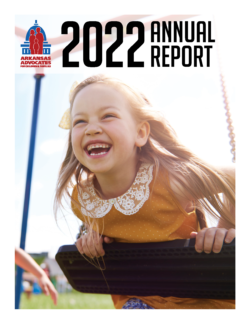 Arkansas Advocates for Children and Families (AACF) had a noteworthy 2022! We celebrated AACF's 45th year of operation throughout the year, sharing highlights of the organization's history and looking forward to what a shared future vision for Arkansas might look like.
In March, then-Executive Director Rich Huddleston announced his plans to depart the organization by the end of the year. We cannot thank Rich enough for the dedication, passion and vision he gave AACF for 27 years, the last 18 of which were spent as Executive Director.
Much of the remainder of the year found a transition committee, composed of AACF board members and staff, charged with defining the role of Executive Director and engaging in a national search.
In June, Val Rose Habrock joined AACF as Director of Governmental Affairs. With a strong background in government affairs and child advocacy, Val was able to hit the ground running in 2022 to help AACF manage the development of our legislative strategy for Arkansas's 2023 legislative session.
As always, all of us at AACF are thankful for your interest in and support of our work. We are stronger in our advocacy efforts thanks to friends and supporters like you.