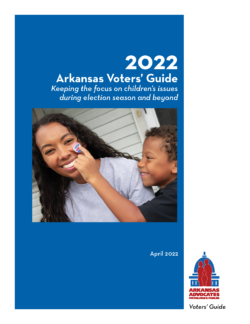 For the staff at Arkansas Advocates for Children and Families, election years are exciting. Many policies and laws that don't often get much attention can become a major part of the election debate. That increases their importance for candidates, the media, and the public. But the opposite can also be true.
Without advocacy from people like you, candidates can continually repeat talking points without saying much. Arkansas Advocates for Children and Families is proud to work with a dedicated network of child advocates, like you, from around the state. And we know advocates are often looking for new opportunities to speak up for kids.
In election years, there are many meaningful and fun ways you can advocate on the issues that have the biggest impact on the well-being of our state's children.
We start this Voters' Guide with suggestions of how you can advocate this election year. We also share updates and data on important issues the children and families of Arkansas are dealing with.
Our last Voters' Guide was written in December 2019. As we enter the third year of the COVID-19 pandemic, we know a lot has changed. New problems have arisen, like product shortages and inflation. And longstanding problems, like health and economic disparities caused by racially and ethnically discriminatory laws and practices, have gotten worse. But these problems have solutions.
We suggest questions you can ask candidates to help get an understanding of where they stand on the issues. What their ideas are to build on what is working well for kids and families. And how they will address problems families are facing.
When the pandemic first started, we were heartened, but not surprised, to see how the child advocates of Arkansas quickly stepped up to the plate. Many of you provided support to families and lobbied for laws at the state and national level to help address the vital needs of children.
This election year, we look forward to working with you once again to help raise awareness of issues that matter most to Arkansas's kids and families. We hope this Voters' Guide is a resource to you in that effort.
As we often say, children can't vote. They don't run for political office. They don't make political campaign contributions. And they don't host fundraisers for candidates or political parties.
Yet children are the ones most impacted by the candidates who get elected and the decisions they make while in office.
Thank you for your continued work on behalf of Arkansas's children.
Click the Download button below to get the Voters' Guide PDF.