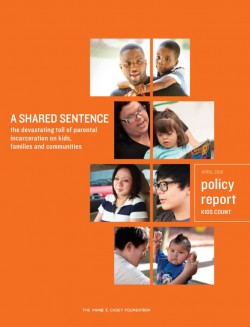 More than 5 million children in the United States (7 percent of the total child population) have had a parent incarcerated at some point in their lives, including an estimated 61,000 in Arkansas, announced Arkansas Advocates for Children and Families (AACF) and the Annie E. Casey Foundation today. In its latest KIDS COUNT® policy report, A Shared Sentence: The Devastating Toll of Parental Incarceration on Kids, Families and Communities, the Casey Foundation highlights this and other sobering statistics that demand we take steps, through sound policies and practices, to minimize the impact of incarceration on the lives of our children.
As the prison population has surged in Arkansas and the U.S., so too have the number of children and families experiencing the consequences of having a loved one incarcerated.
"The negative economic and social impacts of mass incarceration send ripples across the state. The effect on the children and families of those incarcerated is immediate," says AACF Senior Policy Analyst Paul D. Kelly. "For the sake of current and future generations, we must find a better approach."
When a parent is incarcerated, kids often suffer the sentence as well. Incarceration destabilizes children's lives and severs their connection to a parent, both of which can have lasting effects on the child's development and emotional well-being. The negative impacts of parental incarceration also manifest in increased child poverty, homelessness and hunger.
Arkansas Advocates for Children and Families joins the Casey Foundation in calling for policies and practices that prioritize the needs of children of incarcerated individuals. Making smart investments in them, their families and the places where they live can help ensure they have strong support systems. A Shared Sentence emphasizes that states should:
Direct more funds toward education and training for in-demand jobs for incarcerated individuals.
Minimize the effects of a criminal record once a parent has successfully reentered society through "ban the box" policies.
Facilitate access to financial, legal, child-care and housing assistance.
Enable families to access Supplemental Nutrition Assistance Program and Temporary Assistance for Needy Families programs to cover basic needs and become self-sufficient.
Provide incentives to housing authorities and private landlords to allow people with records to access safe, affordable housing.
To learn more about how to prioritize the needs of children of incarcerated parents, read and download the full report here.
To schedule an interview, contact AACF Communications Director Amanda Hoelzeman at ahoelzeman@aradvocates.org, or call 501.371.9678, ext. 111.
About the Annie E. Casey Foundation: The Annie E. Casey Foundation creates a brighter future for the nation's children by developing solutions to strengthen families, build paths to economic opportunity and transform struggling communities into safer and healthier places to live, work and grow. For more information, visit www.AECF.org. KIDS COUNT® is a registered trademark of the Annie E. Casey Foundation.