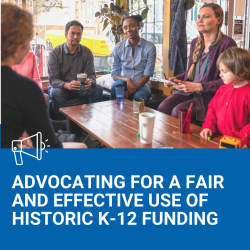 We know that every parent, guardian and community member can be a powerful force in promoting an equal opportunity to learn in Arkansas, and we have an incredible opportunity to shape a huge investment in our K-12 education system here in the coming months.
Through the American Rescue Plan (ARP), Arkansas is receiving $1.2 billion in new funding for K-12 education. School districts have a lot of flexibility on how they spend this federal money. In Arkansas's approved plan, the Arkansas Board of Education outlined their top two priorities for spending as being "supporting students with mental and emotional health needs" and "addressing the loss of instructional time."
Our advocacy guide provides information on how school districts can use ARP funds, what requirements are in place, the opportunities for advocacy, and ways parents and community members can get involved. We also offer spending recommendations, based on research, that we hope to see in school districts' plans to spend these funds.