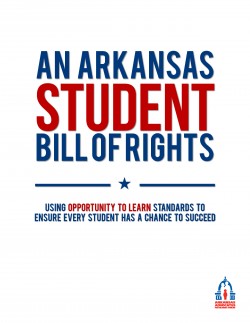 Executive Summary: Download the executive summary for a brief overview of the full report.
Over the last two decades, standards-based education reform has led the march toward accountability, high-stakes testing, and rigorous performance standards for the United States' education system. Beginning in 1990 with President George H. W. Bush's America 2000 legislation, continuing with President Bill Clinton's Goals 2000 and the 1994 reauthorization of the Elementary and Secondary Education Act (known as the Improving America's Schools Act), and finally culminating with President George W. Bush's 2002 No Child Left Behind, accountability standards have become the framework that community and political leaders use to measure the successes and failures of schools, teachers, and students.
But there's something missing from the debate: balance between the expectations of teachers and their students and the responsibility of the state to provide them with the resources necessary to achieve high standards. Leading education researchers Marshall Smith and Jennifer O'Day write, "It is not legitimate to hold students accountable unless they have been given the opportunity to learn the material on the examination. Similarly, teachers or schools cannot be legitimately held accountable for how well their students do unless they have the preparation and resources to provide the students the opportunity to learn." A Student Bill of Rights, using opportunity-to-learn (OTL) standards as the basis for measurement and accountability, unequivocally ensures the state will provide all students with the resources necessary to obtain a high-quality public education and achieve success in college and a career.