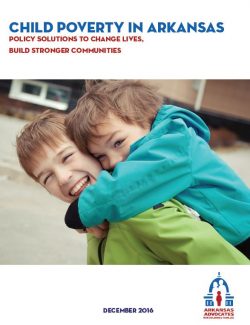 With the Regular Session of the 91st General Assembly coming up in just weeks, it's time to shine a spotlight on the critical issue of child poverty in Arkansas and what we can do to improve the lives of hardworking families and build stronger communities.
AACF's newest report, Child Poverty in Arkansas, details the consequences of child poverty through Arkansas-specific data and analysis of the role of family economics in the state's child poverty rate. Most importantly, the report offers sensible policy solutions to steer Arkansas toward a more prosperous future and more financially stable, successful families and children.
If we make public policy changes that invest in kids and their parents, we could become a regional and national leader in child economic well-being.
Some of the consequences of child poverty:
While the causes of child poverty are debated and nuanced, there are several common-sense policy solutions that will improve the financial well-being of lower income children and families in our state:
A two-generation approach – One broad strategy for reducing child poverty is the two-generation approach, which acknowledges that the future success of children depends on the more short-term success of their parents. This strategy combines child-focused and parent-focused efforts to create an all-inclusive family model.
Working family tax credits – An Arkansas Earned Income Tax Credit (EITC) would supplement the successful federal version which helps working families across the nation make ends meet with credits at tax time. The credits are usually spent on catching up on bills, furthering education, or providing essentials for kids.
Paid leave – The cognitive and developmental benefits of paid maternity leave on babies are well documented, but paid leave is hard to come by in Arkansas. State Rep. Clarke Tucker of Little Rock is working again on legislation to provide six weeks of paid maternity leave for state employees. Providing paid leave for state employees would cost about $354,000 a year, a small fraction of the state budget.
Improved child welfare systems – Children in the foster care system are frequently lower income, and we are not doing enough to provide adequate resources for them. The typical foster care caseworker in Arkansas has 29 cases (the recommended number is 15). We need to invest in recruiting and training foster care families and increasing funding to reduce the caseload of social workers.
Download the full report to read more. Questions or comments? Contact us here.