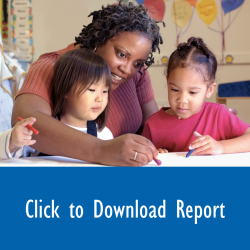 The Child Care and Development Block Grant (CCDBG) Reauthorization Act of 2014 requires state-led child care agencies to submit a plan every three years that outlines their state child care policies and plans for using their Child Care and Development Fund (CCDF) resources.
The CCDF is a federal and state partnership program to help families with low incomes access child care and to invest in the skills and qualifications of the early childhood education workforce.
These state plans also provide data on the variations in child care policies across states and offer a way for sharing information about effective policies across states.
This brief report examines the final FY 2022-2024 state plan, which does include improvements for child care in our state. However, there are also parts of the plan that do not fully address the inequities and challenges that families across the state face when accessing child care.
This report also includes a discussion of the proposal submitted to the Arkansas State Legislature by the Division of Child Care and Early Childhood Education for the use of new federal funding from the American Rescue Plan. This historic, one-time funding offers our state the opportunity to expand existing programs and address inequities that our children and families are facing in Arkansas.
Download this publication to learn more.