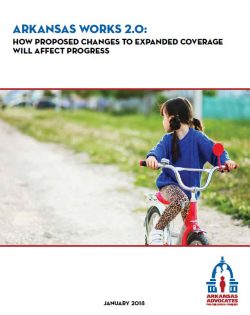 In our latest brief, health care policy fellow Bruno Showers analyzes proposed changes to Arkansas Works and the troublesome impact they will have on Arkansans, our state budget, and our health care system. Plus, we offer some suggestions to ensure the roll-out of these changes causes minimum health coverage disruptions.
Here's what you really need to know:
Arkansas Works, the state's Medicaid expansion program, has successfully provided hundreds of thousands of Arkansans with affordable health care coverage and has saved the state money in charity payments to providers for uncompensated care.
But the proposed changes are designed to remove people from coverage without giving them a comparable alternative. This is not just bad policy – it runs counter to Medicaid's core mission of providing health care coverage to low-income people.
The Arkansas Works program has been amended so many times that the state has had trouble tracking and monitoring the program to inform future policy decisions. If this waiver is approved, we strongly encourage DHS to implement systems to monitor and protect enrollees from unintended coverage losses.
Lowering the eligibility from 138 percent of the Federal Poverty Line (FPL) to 100 percent of the FPL would remove 60,000 Arkansans from coverage without providing them with a comparable and affordable alternative.
Work requirements are unnecessary because nearly all Medicaid enrollees work or would qualify for an exemption. Research does not show that work requirements help improve employment prospects or lift recipients who are subject to them out of poverty, and tracking participants would be a costly administrative burden for the state.
To see how expanded Medicaid coverage has changed the lives of hundreds of thousands of Arkansans, watch our latest video featuring Greene County farmer Mike Potter.