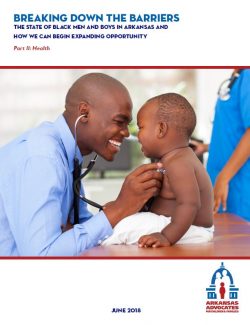 Across the board, our black men and boys encounter significant barriers. They face a higher rate of infant mortality, child poverty, and incarceration than their white peers. They also have lower high school graduation rates and family income levels. These outcomes are a result of decades of policy decisions that negatively impacted black Arkansans.
This is the second data snapshot in a series that details the state of black men and boys in Arkansas. This snapshot specifically focuses on the health and wellness of black men and boys and recommends policy solutions that can improve outcomes for black men and boys and help them achieve health equity.
We believe that every Arkansan should have access to affordable health coverage and comprehensive care, so that they can live healthy, productive lives. When any one group lags the rest of the population, protecting the health of every person is more challenging. To improve the health of every Arkansan, policies and programs must focus on improving health outcomes for people of color.
A few of our key policy suggestions:
Maintain affordable coverage options. Continuing to maintain Arkansas Works, the state's Medicaid Expansion program, is key. The state should also avoid new coverage barriers that result from complex eligibility requirements. Policies like the recently approved Medicaid work requirement will likely disproportionately affect underserved populations.
The state should implement health care programs in high-needs communities. Concentrate investments into improved health care and innovative initiatives in the regions of the state with the greatest needs. This includes offering incentives to providers who offer high-quality care specifically for people living in underserved communities.
Recruit and train more health professionals of color. The state should work to improve the diversity of health care professionals, since research shows they are more likely to practice in underserved communities and treat more racial and ethnic minority patients. Recently, two new osteopathic medical schools opened in Arkansas. This presents an important opportunity to make recruiting diverse students a priority.
Support a team-based care model, like the patient-centered medical home. This will help increase access to primary care services, especially in underserved communities. Due to poor access to primary care doctors and culturally sensitive health providers, team-based care models should be used to improve care coordination, patient education, and utilization of preventive services. Certifying local community health workers would also help patients navigate the health care system.
Expand programs that reduce racial barriers. The state should work to increase access to evidence-based community programs that are known to reduce disparities. Investing in programs like home-visiting, that provide caregiver support and education, can greatly improve child health outcomes, especially among underserved minority families. These positive outcomes are seen in the child's health and development, parenting skills, school readiness, and family economic security.
To read more, download the complete data snapshot here. And take a look at the first data snapshot in the series, on family economic security, here.