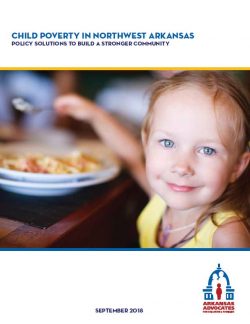 Statewide, many people think of Northwest Arkansas as a place where poverty is rare, where families and communities thrive in a booming economy. But as our updated Northwest Arkansas Child Poverty report explains, thousands of families struggle to get by even as the post-recession economy has surged.
The child poverty rate in the region decreased sharply since its recession peak, but more than 22,000 children in Washington and Benton counties still live in poverty. And almost half the kids in the two-county area grow up in families with low incomes. The report highlights some red flags that regional leaders should address if they want those children to have the opportunities they need to reach their full potential. For example:
Income inequality has widened in Northwest Arkansas, ranked near the top nationally. In regions with higher income inequality, housing prices tend to soar, leaving low-income people unable to afford homeownership or even rising rental costs.
Racial and ethnic income disparities persist, with children of color twice as likely to live in poverty as their white peers. Addressing gaps in opportunity today will ensure that inequality doesn't continue to grow as the region does.
Affordable, quality early childhood education is hard to come by. Head Start, Early Head Start and Arkansas Better Chance pre-K programs report sometimes long wait lists, indicating that we're not meeting the need to ensure that children are well prepared to start school.
The report makes a list of policy recommendations that could help the region continue to thrive, from tax credits for lower-income working families to investments to a state-level DREAM Act that would make higher education more attainable for many children of immigrants. In addition, it's important to note that crucial federal programs ensure that thousands of children in Northwest Arkansas have the opportunities to reach their full potential. That includes programs like ARKids First health insurance, which is mostly federally funded, and Supplemental Nutrition Assistance Program, or SNAP. These investments are worth defending for the difference they make in so many children's lives.