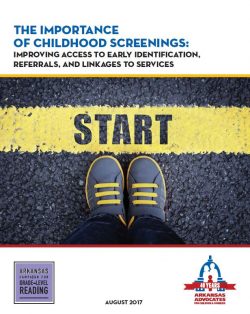 The health care system has improved dramatically over the past 20 years in Arkansas. Today, 95 percent of children have health coverage, and we've lessened the coverage gap resulting from differences in household income. Also, the state has made strides in recent years to reward the provision of high-quality preventive care through the patient-centered medical home model. Yet, children in Arkansas lag behind on several important health indicators, because many kids still lack access to the treatment and key developmental screenings they need. According to the 2017 Kids Count data released by the Annie E. Casey Foundation, when compared to other states, Arkansas ranks 46th in overall child health. Also, 18 percent of children are not in excellent or good health.
Early investments in the health and well-being of young children are especially important to ensure they are ready to learn and thrive in school. Research shows that children perform better in school and are more economically stable as adults when they have a healthy start. In addition, children have better health outcomes, and it is more cost-effective to detect and treat illnesses early.
Developmental screenings are an effective way to ensure children are hitting important milestones in their growth and development. But Arkansas is behind the rest of the nation in ensuring that children get these important screens and checkups.
The most important period in a child's life is the first three years due to the rapid brain development that occurs. During this critical period, a child develops 85 percent of his or her core brain structure. This early rapid brain development creates the foundation for more complex brain function later, like language, memory, and visual skills. It is also is the best time to influence children's long-term health and well-being. If developmental delays can be identified early, children can receive services to help them catch up so we can achieve our goal of all children reading on grade level by third grade. However, many children who would benefit from early interventions are not identified until they start pre-K or kindergarten. Access to screenings and the services those screenings indicate as necessary are both areas that are ripe for improvement in Arkansas. Improving these screenings and services is an important step toward ensuring children, especially low-income children, are healthy and successful in school.
Read more about early intervention principles; the barriers and opportunities that exist in Arkansas; opportunities we can build on; and our recommendations for improving the system in the full report.
This publication was created in partnership with the Arkansas Campaign for Grade-Level Reading.