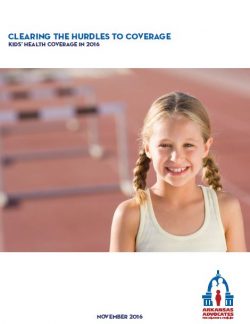 The annual Finish Line report provides a look at the status of health coverage for Arkansas children and their families. The report unveils key data on the progress we've made over the years and recommends additional solutions to ensure every child in Arkansas has a healthy start.
Since the inception of ARKids First in 1997, we've made historic gains in health care coverage for our kids. We've now reached 95 percent coverage for Arkansas children.
Because of expanded Medicaid coverage (now called Arkansas Works), Arkansas also leads the nation in reducing rates of uninsured adults. More than 270,000 low-income adults now have affordable coverage.
There are many important reforms that exist because of the Affordable Care Act, like:
Young adults can stay on their parent's coverage until the age of 26,
Arkansans can't be denied coverage because of a pre-existing condition, and
Preventative health care does not require a co-pay.
Following the 2016 election results, we know there is a lot of uncertainty about the future of the Affordable Care Act and the Medicaid program. Without these important policies in place, it will become even harder for our state to provide high-quality health care to all Arkansans.
But now is not the time to despair. We've come too far to give up now. It is critical that we work every day to protect successful federal programs like Medicaid and CHIP to ensure we can continue to offer every Arkansan the health care they need. There is no doubt the health care system will continue to evolve in the coming months and years, but the investment in a healthy future for our children and their families must continue to be a top priority for our state.
Download the full Finish Line report to learn more about the state of health care in Arkansas.