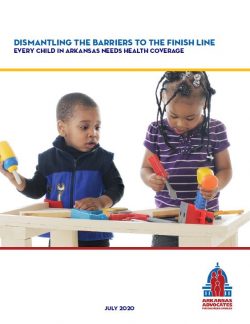 In our annual Finish Line report, Arkansas Advocates for Children and Families looks at the status of health care coverage for Arkansas's children and families. The report examines changes over the years and recommends actions to get Arkansas to The Finish Line: 100 percent coverage of Arkansas's kids.
Between 2017 and 2018, Arkansas slightly improved the children's uninsured rate (4.5 percent in 2018, down from 4.7 percent in 2017). However, the state continues to lag behind its all-time low of 4 percent in 2016. Prior to 2017, Arkansas was on a trajectory toward 100 percent coverage of children in the state. The public health crisis caused by the COVID-19 pandemic, paired with the resulting economic downturn, may threaten our incremental progress.
Early reports suggest the pandemic has disrupted the access to and delivery of health care in Arkansas, including for children. Even before the pandemic, the decline in children's Medicaid was of grave concern. And already existing coverage disparities threaten to exacerbate a health crisis much more prevalent in communities of color. Hispanic children's uninsured rates are up to four times higher than Non-Hispanic African American and White children. Increased efforts for awareness and outreach are critical to ensure that eligible children are located and enrolled in Medicaid and that all children receive the health care they need.
To remove barriers to 100 percent coverage, this year's Finish Line report highlights three important recommendations. These approaches are allowed under current federal law but are not yet employed in Arkansas:
Improve Medicaid enrollment by providing presumptive eligibility for children in Medicaid and CHIP, providing 12-month continuous eligibility for children on Medicaid, and improving enrollment rates for children eligible under the Immigrant Children's Health Insurance Act.
Provide presumptive eligibility for pregnant women and 12 months continuous coverage for postpartum women and infants.
Stop efforts to reestablish work-reporting requirements for Arkansas Works enrollees by dropping the case now in federal court.
Download the full Finish Line report below to learn more about the state of health care in Arkansas and AACF's recommendations.